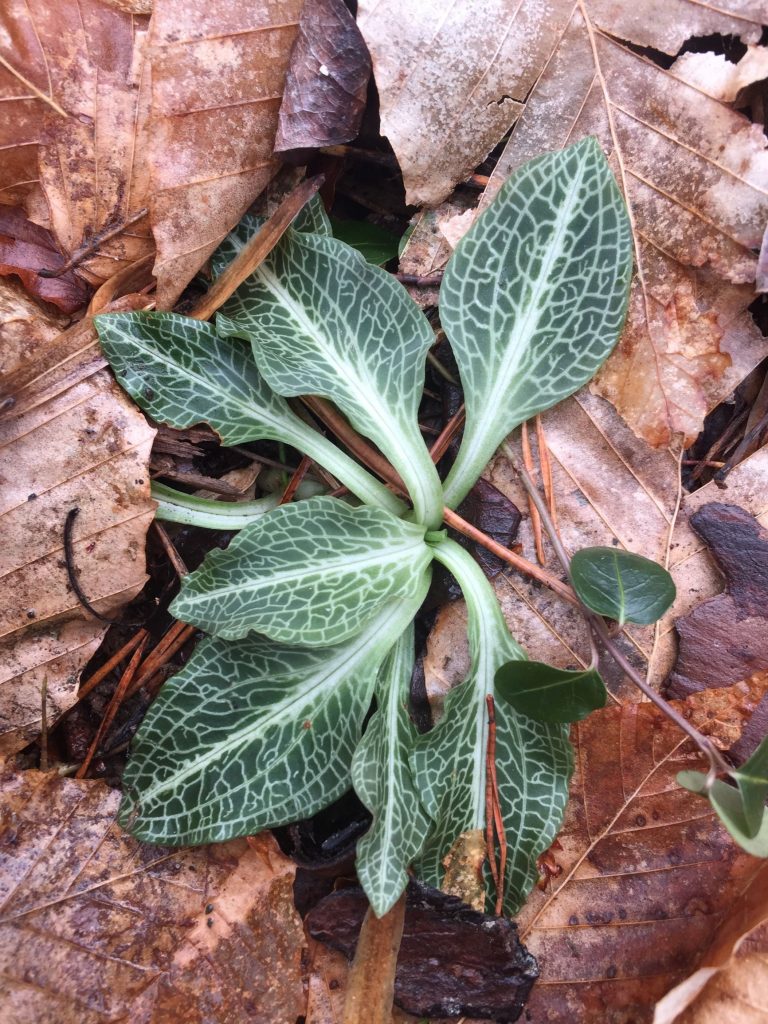 Happy #sciencesaturday! For a change of pace, you will learn about not one, but three different native woodland orchids that are out and about at the Preserve this winter. Each of these orchids has a permanent relationship with mycorrhizal fungus. Young orchids rely on the fungus to receive energy as their access to sunlight is limited during the summer, providing nutrients and moisture in return. This sweet partnership where both help the other thrive is important since over 50% of the native North American orchids are listed as threatened or endangered. Finding each of them will be a challenging mission, should you choose to accept it, best suited for those with a keen eye and fierce determination. Remember, celebrate successful sightings by posting your pictures of these three orchids to the Bull Run Mountains Natural Area Preserve iNaturalist project.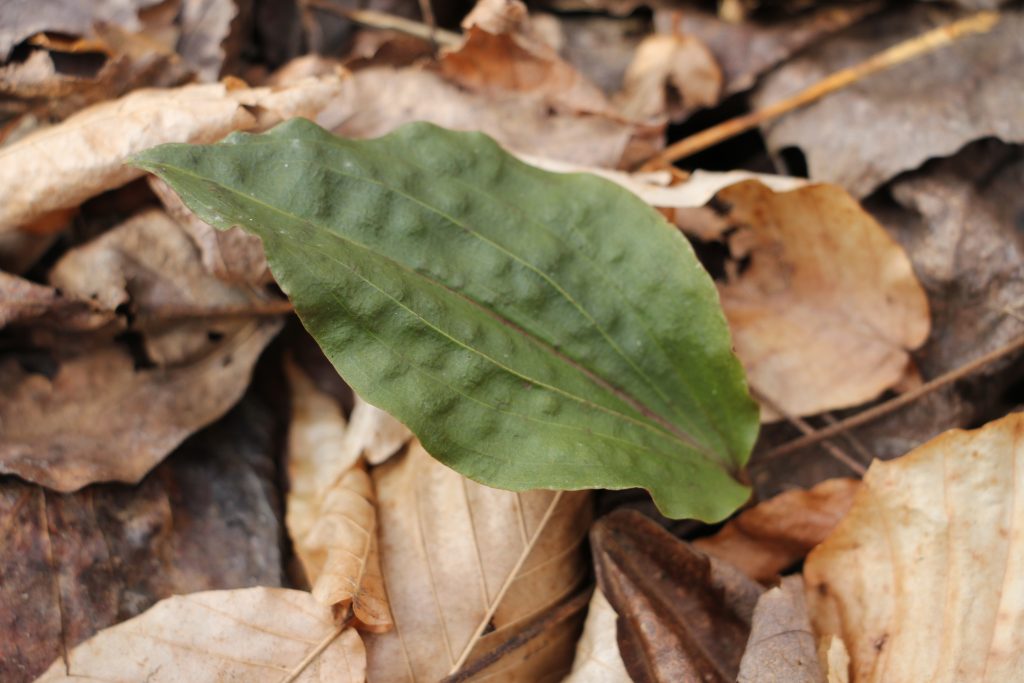 The first winter spotlight orchid species is actually the first species I learned to identify when I joined the team at the Preserve! The crane-fly orchid (Tipularia discolor) appears to be a common green leaf surrounded by brown fallen neighbors. Without it's blooming flowers to draw the gaze, it could easily blend in to all the rest of the sparsely scattered greenery. But perspective is something to be investigated when outside, and I encourage you to seek ways to continually challenge your own. For this species in particular – turn the leaf upside down. Most of the crane-fly orchids will have a beautiful purple underside! As purple is not a common winter color, it makes identification much easier and more memorable.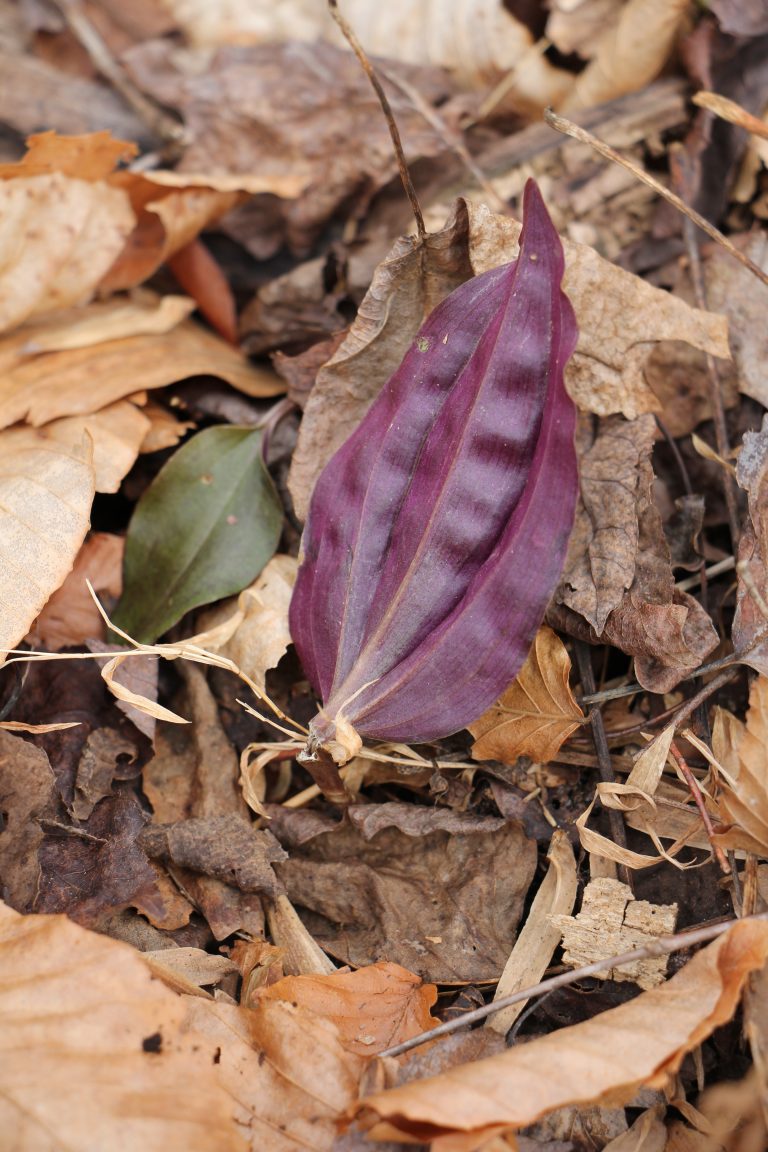 You'll find these orchids either growing as single pointy oval-shaped leaves, or in clusters as it clones during winter, connected by a system of rounded underground roots called corms. Before the orchid blooms in late spring/early summer, the distinctive leaf withers away.  This is another species that has a relationship with moths, and depends on them for pollination (remember witch hazel from last week?). The pollen actually sticks to the moth's compound eyes, as opposed to its legs or abdomen, as it moves between flowers.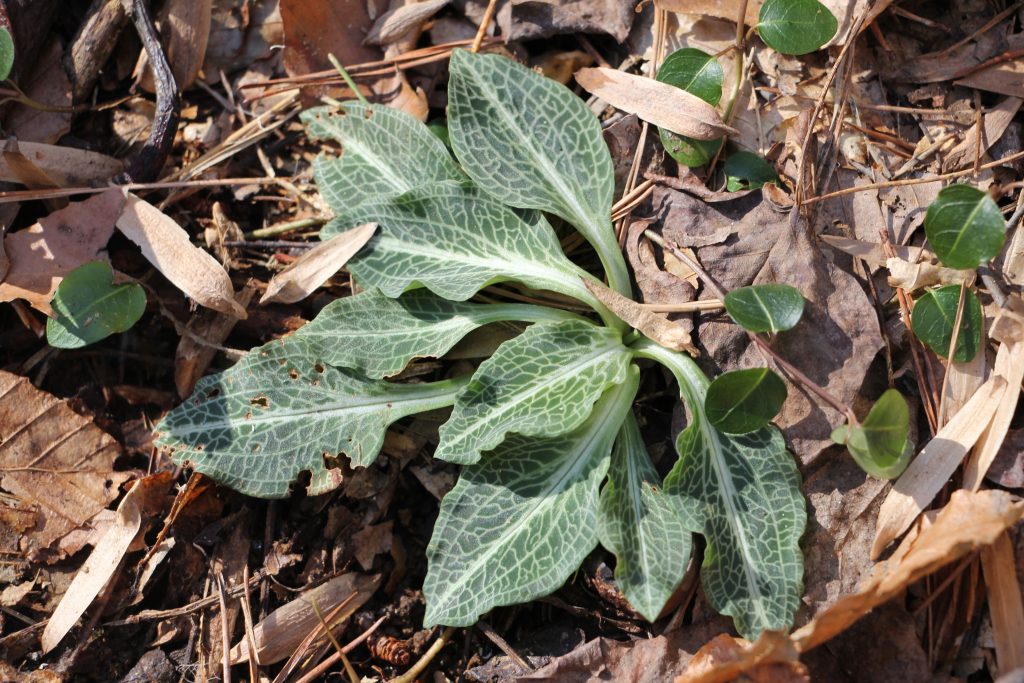 While most reptiles are less active during the cold weather, the second orchid pictured above – downy rattlesnake plantain orchid (Goodyera pubescens) remains busy, maximizing its sunlight energy consumption to store until summer. It is easy to distinguish with its dark green rosette leaves and pale vein pattern that looks similar to snakeskin. This beautiful plant was actually named Wildflower of the Year in 2016! Our previous #sciencesaturday winter spotlight species, witch hazel, was also recognized and won the title in 2002.  I personally struggled for weeks to find this second orchid species on my hikes near any of the trail edges, as white-tailed deer and other browsers enjoy nibbling on this green.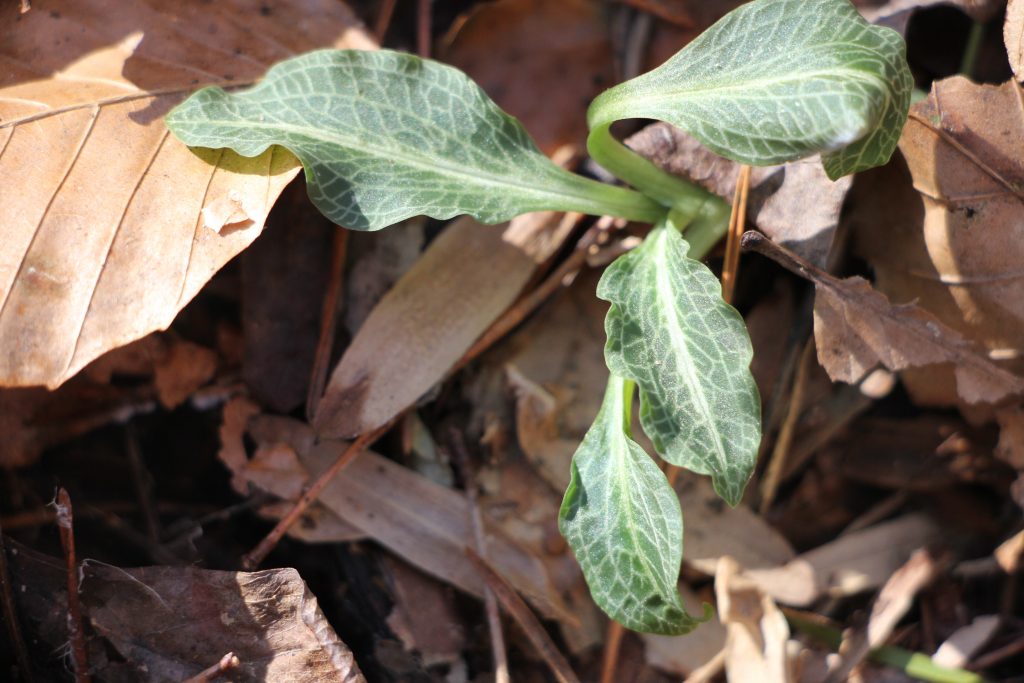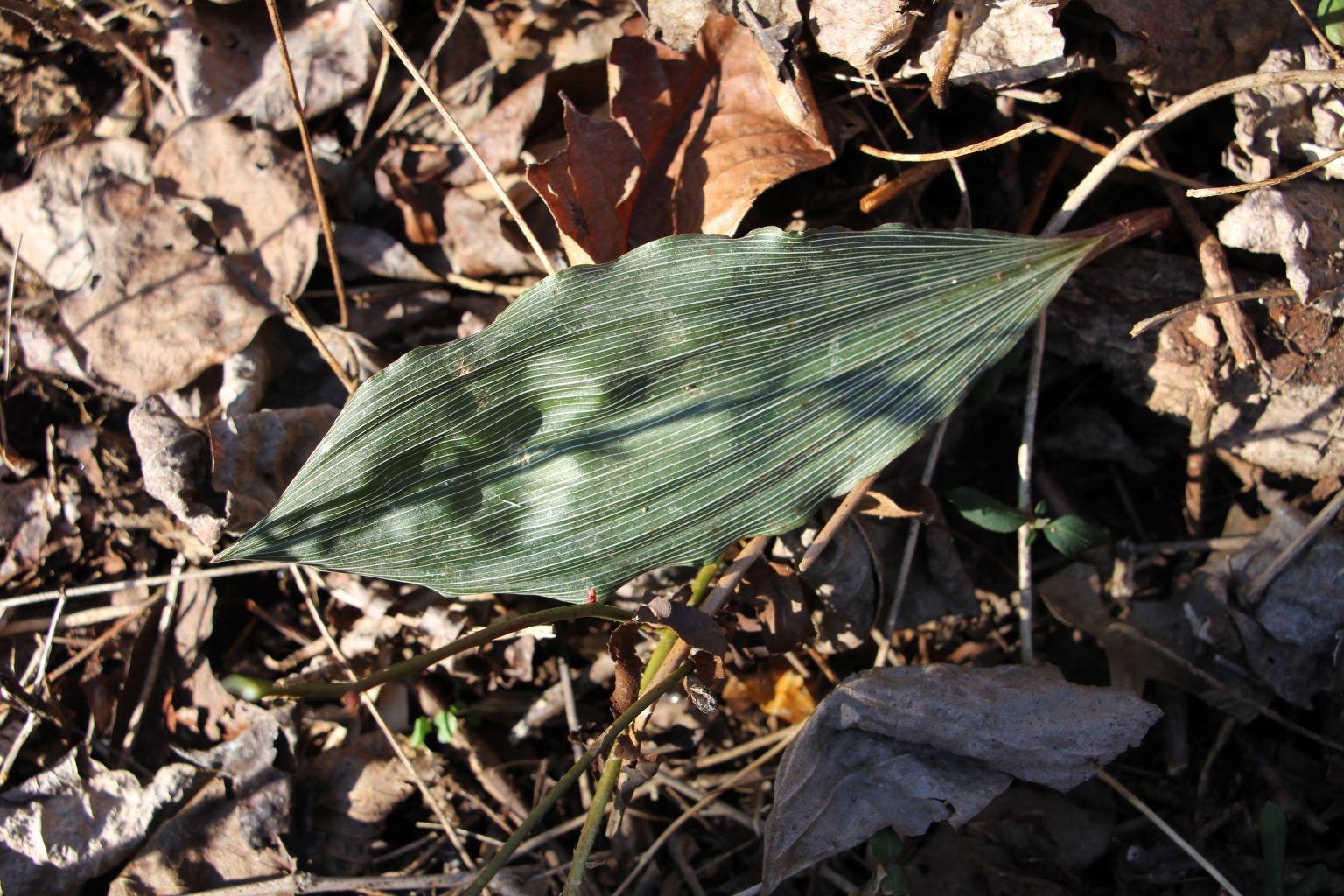 Last is the putty-root orchid (Aplectrum hyemale). Its long single-pleated leaf has white parallel veins on top, and thicker ones underneath. It is named putty root because the sticky substance formed when its roots were ground was used to mend broken pottery. Its other nickname is the "Adam and Eve orchid" because its corms (rounded roots) are paired: one with a leaf that expands until it produces a second, smaller bulb with no leaf. Extremely tolerant of the cold, putty-root orchids can actually continue to photosynthesize at temperatures above 2 degrees C! In spring, sweat bees are responsible for pollinating the new flowers.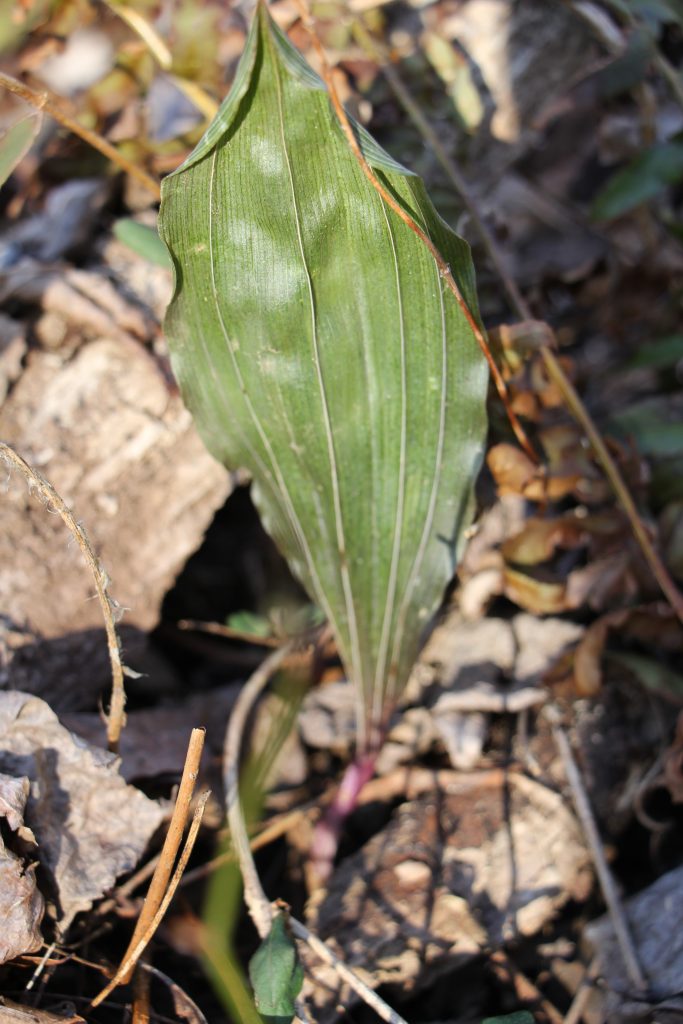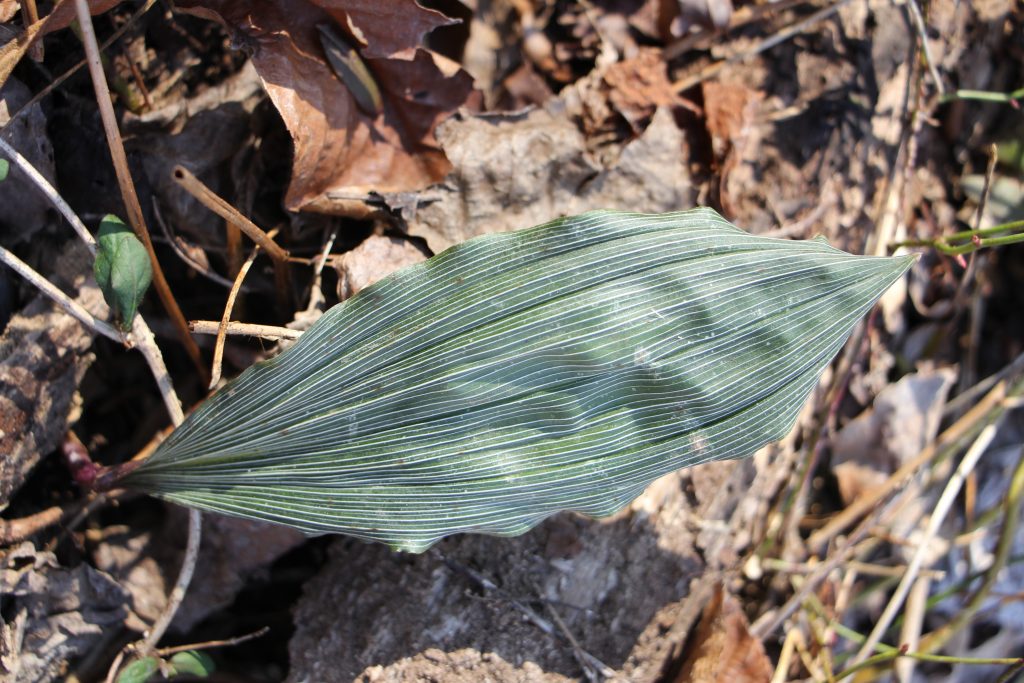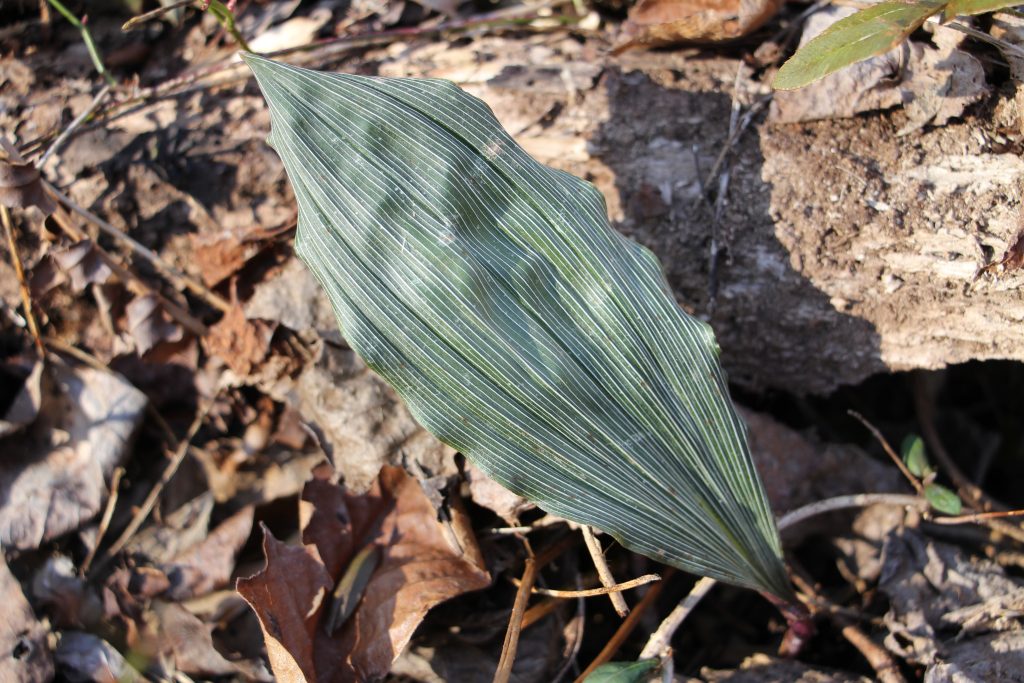 All of these shade-tolerant wintergreen orchids are taking advantage of the dormant forest canopy, so their leaves receive more access to sunlight in the winter as the larger surrounding trees are bare.  Check back in a few months to see what they look like with their blossoms! But until then, when you're stopping for a water break or a quick snack on the trails this upcoming gorgeous weekend, check around you and carefully flip over some of the leaves nearby. There could always be something incredible underneath!