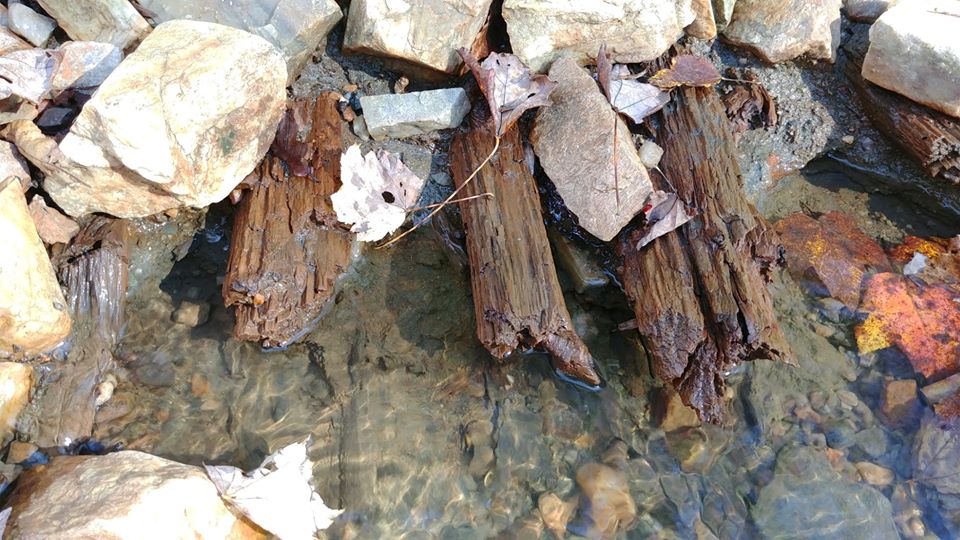 If you have hiked along BRMNAP's Green Trail, you may have noticed an old road bed that has been somewhat-recently exposed by rainwater-driven erosion at its juncture with the old Mountain Access road. The exposed logs (shown in the accompanying photos) closely resemble a corduroy road, a popular type of road construction used during the American Civil War. Corduroy roads are characterized by logs laid perpendicular to road direction and they were implemented where goods or people needed to cross through water-saturated, muddy or swampy areas. 
The recent exposure of this historical roadbed at BRMNAP serves as just one form of evidence of the now state-designated Natural Area Preserve's peopled past. While the road beds recent exposure opens an intriguing avenue of research into the preserve's cultural history, it also brings up challenges for trail maintenance.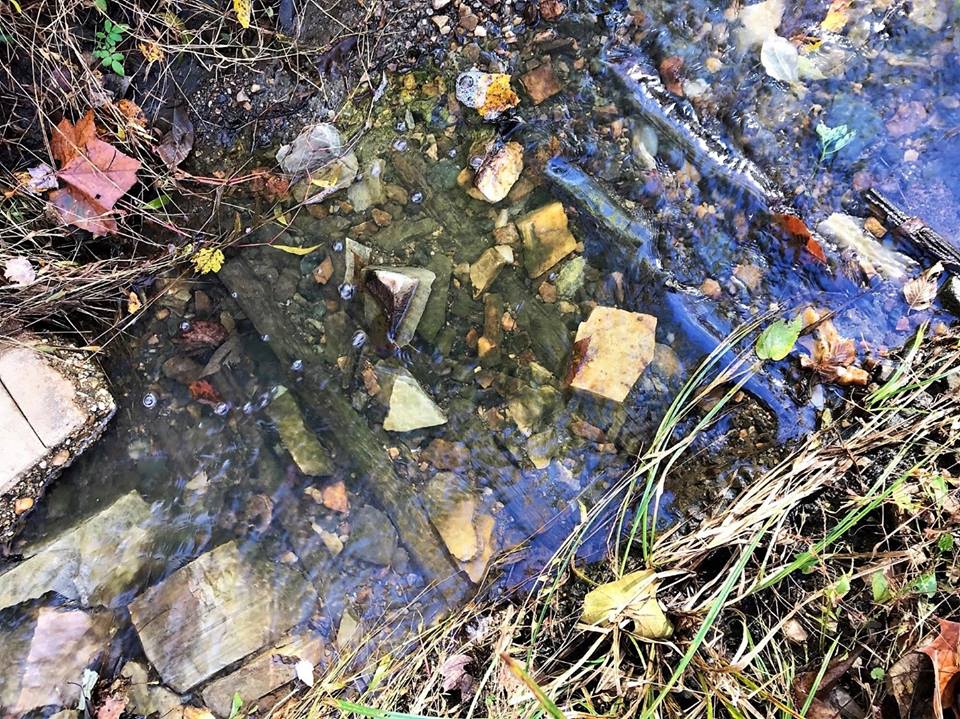 A healthy ecosystem is comprised of native plants and animals that exist and interact in a balance along with abiotic factors (such as water and geologic features). VOF-BRMNAP staff actively manage the preserve to help maintain this balance by monitoring natural communities and minimizing human-use and impact. Despite protecting the preserve from human impact and change, the natural environment still perpetually alters the landscape on its own. Sometimes this natural dynamism fosters the exciting discovery of new cultural or environmental features, but these changes can also present new management challenges.
The small logs that compose the corduroy road were exposed by the rainwaters that run down the mountain after each heavy rain event. While erosion (of all types) is a constant threat to the trail system at BRMNAP, rainwater erosion has, over the past few years, caused the lower portion of the Mountain Access Road to be largely comprised of uneven substrate and perennially wet areas. It has become obvious that this presents an obstacle to preserve visitors and because of this, we are in the process of re-routing the trail network along this section. This re-route will keep hikers off this less suitable trail, while still winding visitors through all-of-our unique natural and cultural treasures. We will be sure to update you all here (and in the form of appropriate signage) as soon as this project is completed!
VOF-BRMNAP staff (with an extremely healthy dose of volunteer contribution!) are dedicated to maintaining (and occasionally creating) sustainable trails on the preserve that provide visitors with a place to observe flora, fauna and historic/cultural remnants in a balanced, natural setting.
We are currently trying to discover as much as we can about our cultural holdings at BRMNAP. If you are interested in volunteering (with trail work or potential citizen-science monitoring projects), or if you have any information on the history of this corduroy road (or any cultural resources held within the preserve), please send an email to our Preserve Technician, Summers Cleary (scleary@vofonline.org) or our Preserve Manager, Joe Villari, (jvillari@vofonline.org).