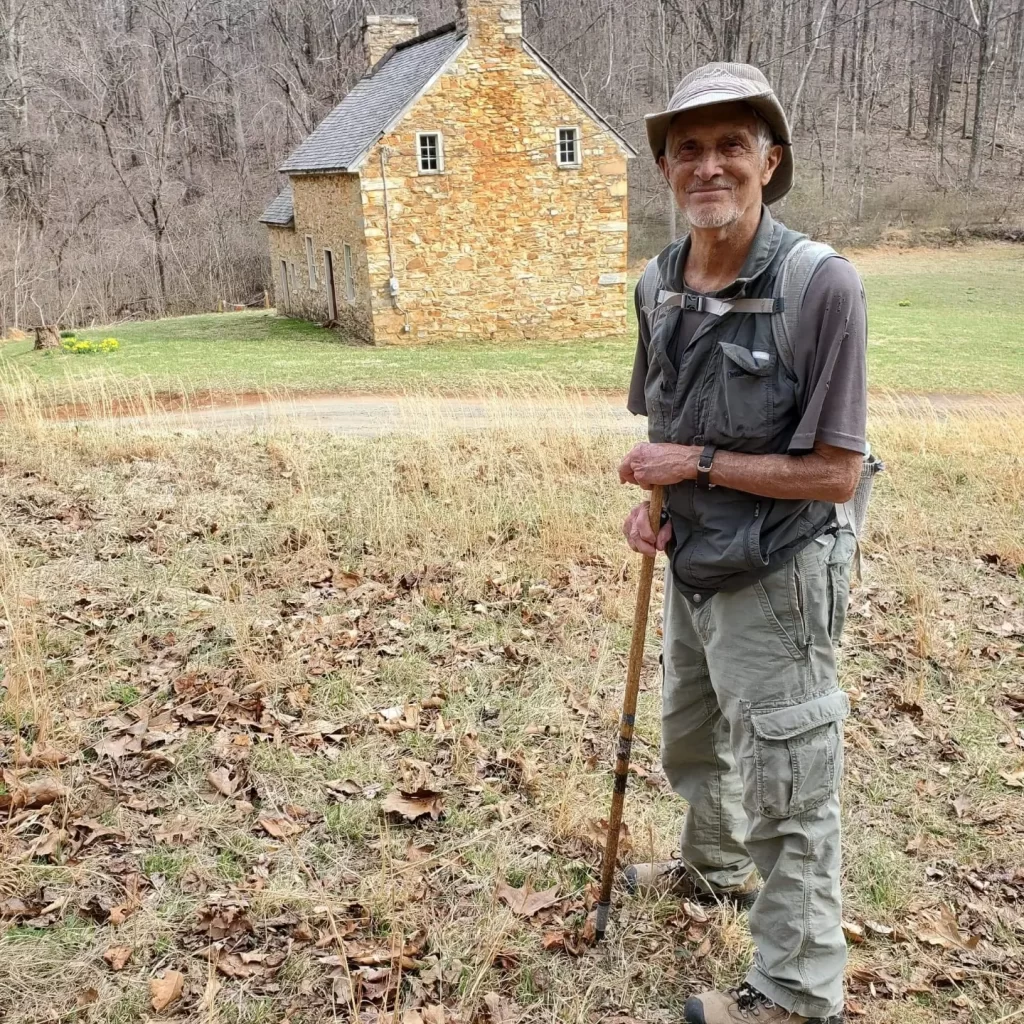 My friend, William H. "Marty" Martin, was born in Leesburg Virginia in 1941.
While I am devastated to have to share that he suddenly and unexpectedly passed away this week at the age of 80, I am thankful that it was with his wife and daughters by his side.
He was a true original in every sense of the word.
A human of mythic proportions – a being far more rare than the threatened and endangered snakes to which he dedicated his life.
Marty was a father, husband, mentor, adventurer, survivor, war veteran, herpetologist, and total unassuming badass.
A friend to snakes, he acted as one of their earliest ambassadors – far before the eruption of the ecological and animal welfare enlightenment of the 1970s.
Though snakes were his obsession, he was a friend to all of nature and humanity alike, and I know that I don't carry this heartache alone.
Marty has been going out in the field to locate and study rattlesnakes since he was a young child (around nine years old). He went on to traverse across most of the snake-bearing continents (on foot!), intentionally spending time in some of our globe's most dangerous locales to document venomous snake populations.
As down to earth as a human could be, he was the field naturalist asked by Steve Irwin to take him out to find timber rattlesnakes to film for his show, The Crocodile Hunter.
Joining the military as a young man before pursuing his university education, Marty served as a paratrooper in the Vietnam war and even once survived a faulty parachute accident during his training. Upon watching this all-too-rough of a landing, his sergeant ran over to see if he was still alive. Seeing that he was, and at least did not have a clearly broken leg, he kicked Marty right in the ribs and told him to get up – because hurt or not, there was no time to lie on the ground if one wanted to remain alive in a war zone.
Tough as nails, he was selected to fight as a bantam weight boxer representing his armed service division. After taking a few punches and delivering many more, he eventually hung up the gloves to fight in the Vietnam War as part of the US Army's 101st Airborne Division. Seeing plenty of action, Marty honorably left the military just before (sadly) many of his immediate team with which he served lost their lives in a helicopter combat scenario.
Leaving his time in the military and coping with his wartime experiences, Marty went on to gain his Bachelors of Science from the University of South Florida. No stranger to death or danger, once graduated he decided to set out across the world to document venomous snakes.
This love of snakes seemed to place Marty at ground zero for many newly emerging disease outbreaks, civil wars, and many other man-made, and natural, disasters – such as the time he found himself in a Congolese village that happened to be ground zero for the very first Ebola outbreak as it unfolded. Or the time he spent time in Somalia just as civil war erupted.
One of my personal favorite Marty tales is the time he got into an altercation on a small airplane in South America just before takeoff. He was apparently sold a fake ticket and when refused a seat, saw the person on the plane that sold him the fake ticket. Both him and the scammer were thrown off the plane and were in fisticuffs on the tarmac as the plane flew off.
It turned out that the scammer and Marty unintentionally saved each others lives, as that very plane crashed into the rainforest and left only a very few survivors. Oddly enough, he only came to know this when he was reunited with one of his occasional travel companions, who happened to be one of the survivors of the plane crash, while traveling on a public bus through Colombia.
The adventure didn't stop there for these two intrepid travelers, as the bus was pulled over by the National Police of Colombia along its route. Long story short, most of the bus's passengers were detained due to the discovery by police of considerable illicit substances in the storage area. Imprisoned for a few weeks, Marty made-do and was even quickly promoted to yard boss. Despite his ability to cope, known innocence in the situation, and patience – he became increasingly worried that they weren't ever planning to provide due process. Knowing that the prison was very close to the Colombian border, one day during lunch he decided to flee into the rainforest with nothing but the clothes on his back. After walking a day or two, Marty eventually found freedom and sanctuary in an Ecuadorian embassy.
With a life like this, there are many legends surrounding Marty and I am always impressed how I can be almost anywhere and run into someone who knows Marty. His love for snakes connected him with humanity, and he connected so many of us to the beauty and joy of rattlesnakes.
World traveling aside, Marty's roots run deep around these parts.
The Bull Run Mountains were special to Marty as were almost every single timber rattlesnake denning site here in the Mid-atlantic. He knew each den site intimately and by heart, and if you mentioned one he didn't recognize he would interrogate you until he realized he already knew it, or needed to go document it for himself.
Marty's uncle worked at the Beverley-Chapman mill and was bitten on the hand by a timber rattlesnake. Marty remembered being entranced by his uncle's gnarled pinky insisting that his uncle let him observe his hand every time that he saw him. Marty remembers it was his earliest fascination in particular that hooked him on rattlesnakes.
Marty's father first showed him a rattlesnake in the Mountains of West Virginia, seeing a similarity in habitat Marty became obsessed with finding rattlesnake denning sites on any mountainous area he went, including the Bull Run Mountains – which was the closest suitable habitat to his childhood home, though no one had officially documented a population here.
In fact, when he was just thirteen, he reached out to herpetologist Dr. Leslie Burger, and told him that there were timber rattlesnakes (Crotalus horridus) in the Bull run Mountains. Skeptical but intrigued, Burger drove Marty out there and followed him to a den site he discovered. Sure enough, there was an enormous gravid female timber rattlesnake right where Marty claimed them to be. Dr. Burger was thrilled, as the kid was right – there indeed was a population of rattlesnakes on the mountain. So excited, Dr. Burger was eager to collect the snake to preserve as a wet specimen and anchor into his research collection.
Well, that didn't sit well with young Marty and an argument ensued. Dr. Burger insisted that the pickling of the snake was absolutely necessary to the population's research, but Marty continued to stand his ground. From Marty's perspective, it was his snake and Dr. Burger would have never found it if it weren't for him – so he got to call the shots. According to Marty, Dr. Burger resorted to threatening to not drive young Marty home if he would not let him collect the specimen.
Marty retorted by saying that that was just fine and to do what he needed to do, but that Marty's mom would be visiting him soon with her .45 when she found out Dr. Burger had left her son in the field. Shocked by young Marty's moxie, Dr. Burger didn't want to find out whether or not this was an empty threat. So, Marty was driven home and the snake's life was spared.
From there forward, young Marty continued to develop a name for himself snake den scouting and taking our area's best herpetologists out to sites to show them where venomous snakes weren't yet documented. This led to him being one of the founding members of the Virginia Herpetological Society (at only 17 years old), and then serving for decades on the IUCN task force focused on timber rattlesnake conservation, and a recent coauthorship of the 2021 Partners in Amphibian and Reptile Conservation tome, "The Timber Rattlesnake: Life History, Distribution, Status, and Conservation Action Plan".
Marty's happiness was intrinsically tied to the presence and well-being of venomous snake populations, especially his beloved timbers.
At 80 years old, he was more physically capable than most 20 year olds that I have scrambled across the mountain with. Effortlessly crawling up rocky slopes and pushing his way through the thorniest swaths of smilax bushes.
The photos in this post are some of the last I took of Marty as we walked together out of the field earlier this year. I will always cherish that last hurrah.
I love you, Marty.
Thank you for sharing your knowledge, passion, stories, and wonder with me. I hope there are other worlds than this and that you are just on to your next adventure.
This world certainly won't be the same without you in it, but it will be forever changed for your time here and I hope that you left knowing that you have inspired a whole new generation of snake enthusiasts and we will be sure to continue to watch over your beloved scaly friends for you.