In 2017, outfitted with safety goggles, work gloves, steel-toed boots, and fire-retardant jumpsuits, a group of Radford students set fire to an 8-acre grassy field on the university's Selu Conservancy nature preserve. They hope to do it again this year, and again three years after that.
Their efforts are part of the fire ecology class offered by Radford's biology department in partnership with the Virginia Department of Forestry (DOF). Students who enroll in Fire Ecology also enroll in two other courses, Firefighter Training and Introduction to Wildland Fire Behavior, offered through DOF online. The combined courses train students to conduct a prescribed burn—a fire purposely set and then extinguished to help warm-season grasses thrive. The practice helps maintain habitat for native bobwhite quail.
"It's a unique and high-impact educational experience for the students and a valuable partnership with local agencies," says Josh Nease, academic program manager at Selu. "Prescribed burns are an effective land management tool, deploying an important natural process in a controlled environment." 
Selu's grassland habitat occupies a fraction of the total 380 acres of the preserve, which hugs a deep bend along the Little River. In addition to the quail's grassland habitat, there are wooded upland areas for the rare natural heritage plant species, Paxistima canbyi (Canby's mountain lover) and Viola walteri (the prostrate blue violet). Native animal populations also benefit from Selu's wild spaces.
In order to ensure protection of these natural resources over the long term, the Radford University Foundation donated a conservation easement on the property to VOF in 2011. The easement requires the maintenance of 300-foot riparian buffer along the bank of the Little River that runs along the edge of the property, delineates a no-build area to protect the rare plant species, and specifies that the forested portions of the property be kept in their natural state.
Providing innovative hands-on learning opportunities for Radford students is just one of the many roles Selu plays in the community. Free and open to the public for hiking and canoeing along the Little River (call the conservancy coordinator ahead of time to arrange access), the site also acts as an outdoor classroom for area elementary students and hosts a log-cabin like retreat center; a multi-purpose event space known as the Barn; and the adjacent Silo, the conservancy's observatory.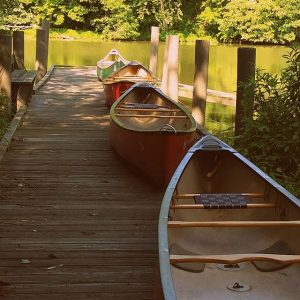 "It's a busy place," Nease says. "In spring of 2019 we had almost 1500 student visitors from 13 different programs and departments."
The Wilderness First-Responder class provides students with another first-hand learning experience, this time to students of the Recreation, Parks and Tourism program, who get to practice providing emergency medical attention in a wilderness setting, where people needing urgent care might be far from a hospital or other healthcare facility.
Selu is an integral part of the university's Appalachian Studies Program as well, says Ricky Cox, who teaches courses in Folklore, American Literature, and Appalachian Studies. He also coordinates programs at the Farm, the reconstructed 1930s farmstead at Selu, dedicated in 2006. When the property was donated to the university by the Bowles family, he states, "Appalachian Studies proposed developing a living history field trip destination that would complement other historical resources that already existed further east, such as Colonial Williamsburg, Monticello, and the Museum of Frontier Culture in Staunton."
"We thought that interpreting the 1930s would provide a link where elementary school students could see the shift from subsistence to market agriculture, how we went from cooking on a hearth to a cooking in a microwave, and how radio and 78 rpm recordings that became popular in rural America in the 1930s began to move us from entertainment that was exclusively homemade toward modern sources that are anything but."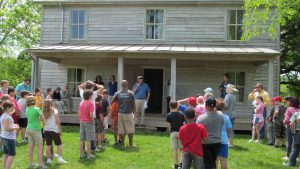 Now, tours of the Farm (officially the C.E. Richardson Appalachian Heritage Education Park) take the students through a rural home from the period, demonstrating what cooking, eating, and entertainment would have been like for a typical farm family at the time.
Last fall, a total of 529 elementary school students from Montgomery and Wythe Counties and the City of Radford and 179 Radford University students toured the house. In the past, tour interpreters have come from a pool of non-student volunteers which includes active and retired faculty, retired schoolteachers, and alumni.
More recently, Cox says, Radford Teacher Education students enrolled in a human development course have joined in, along with advanced Recreation Parks and Tourism students.
"They get actual teaching experience in a very structured situation," Cox says. "They develop a 20-minute presentation that they give, often with a partner, to several groups of 5-12 kids. They log contact hours and turn in assignments illustrating what they've been learning about developmental stages they are studying in the classroom or how to manage tours at a cultural site."
Cox, who is retiring in May, hopes that Selu's model of collaboration between preservation and education can be emulated at other institutions that own or have access to conserved land. James Madison University, for example, inherited a 37-acre parcel under easement held by the North American Land Trust and recently sent a group out to see Selu's programs at work.
"It's a win-win," Cox states. "The Farm is able to serve the university by providing a real-world instructional experience for its students, and the number of people who get to experience the beauty and history of this place is much expanded."
More information on Selu's programs and facilities can be found on Radford's Selu webpage.
To make appointments for hiking or canoeing access, contact Selu's coordinator at selu@radford.edu, or call 540-831-5933.