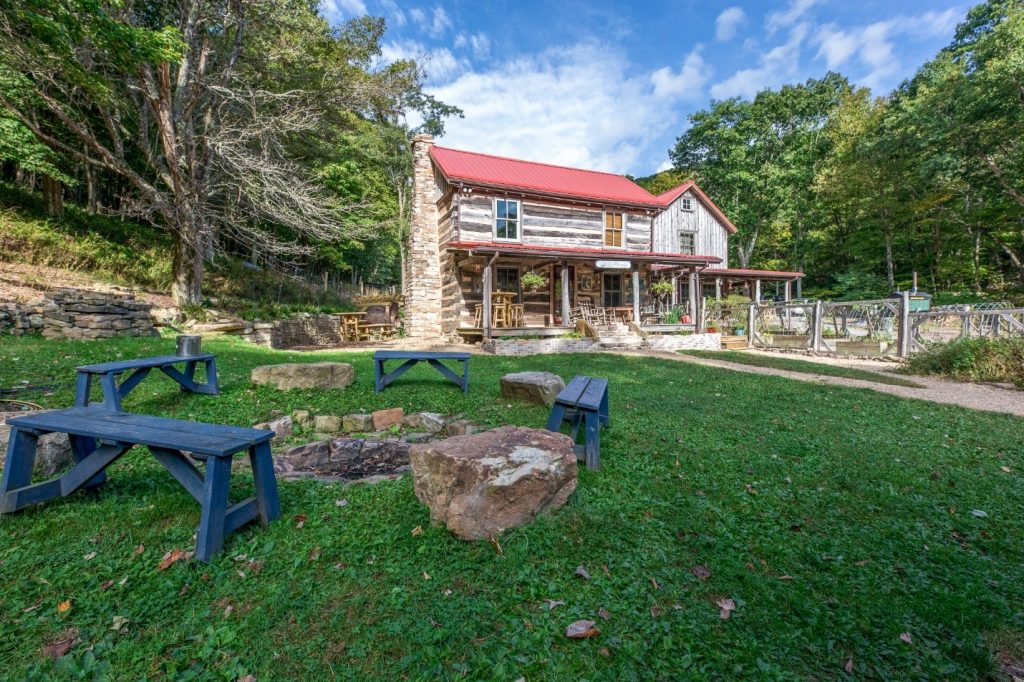 Neville Harris lives in a secluded cabin in the woods, but she has company nine months out of the year. It's even busy at her place from mid-April to mid-June, peak season on the Appalachian Trail, when as many as 20 or more trail-weary hikers might show up at her Woods Hole Hostel, where they can sleep on real mattresses, take hot showers, and eat home cooked meals.
The guests first started coming in 1986, when Neville's grandparents, Tillie and Roy Wood, began allowing hikers a free one-night rest stop on their wooded retreat. When hikers wandered down from the trail, one-half mile away, the Woods would let them sleep in the bunk house or camp on the property. After Roy's death in 1987, Tillie made the 8-hour drive from her home in Georgia every year to be there for hiker season. A stay at Woods Hole wouldn't have been complete without her $3.50 home cooked breakfast, which saw travelers off in the morning.
Neville and her sister Jere would often spend summers on the property with Roy and Tillie, who wanted to see their haven preserved. The year before Roy died, the two girls, aged eight and ten, overheard their grandparents talking about donating the property to a conservation organization. Neville's mother, Mary Jo, remembers, "They came to me in tears, saying 'Please don't let them give the cabin away!' So my parents willed it to me instead, and I promised them I would never sell it."
Tillie and Mary Jo decided to place a conservation easement on the 80 acres, which a forester estimated had not been timbered in over one hundred years. The stands of mature red oaks and other native hardwoods were some of the oldest the forester had seen, Mary Jo says. "He told me we could send a child to college on what we could make from timbering, but we didn't care. We just wanted [Tillie] to know it would be protected.""
The easement was finalized in November 2006, barely a year before Tillie died. It contains provisions that protect the viewshed of the Appalachian Trail, prohibit timbering, and delineate protective buffers around the streams on the property.
"She was immensely proud of it," Mary Jo says.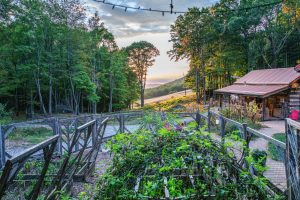 Neville started running the hostel in 2009. She and her husband at the time took on the work together, installing a raised-bed garden, a gravity-run irrigation system from a spring, and an outdoor wood furnace to heat the cabin and water. They also made the 13-bed bunkhouse a little warmer by enclosing it.
On her own now, Neville continues to move the hostel forward. She has expanded the lodging possibilities beyond the bunkhouse to satisfy a range of budgets, providing three private rooms in the renovated and expanded 1880s-era cabin, and glamping tents with electricity for those who want to stay outside. She enlists help in preparing breakfast and dinner from anyone who wants to participate in the communal-style meals, cooked from vegetables grown either in her own garden or on her Amish neighbors' farm.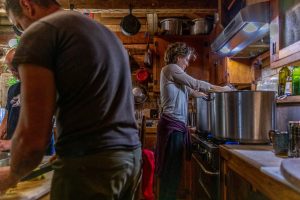 Neville says, "There are a hundred different ways people help out. Some folks just love volunteering and have amazing skills."
Additional amenities include impromptu yoga classes (Neville spent some time in India), a massage (she is a licensed massage therapist) or just the opportunity to chill out in one of the many beautiful spots on the property, all maintained by Neville with hikers who give her a hand.
It may seem like a lot, but how she does it isn't a mystery to her family, who say that Neville has been preparing for the job her whole life. Mary Jo says, "She's created something that we're all very proud of. I love telling people that I have a daughter who runs a hostel on the Appalachian trail."
For Neville, it's worth it just to get to live in the woods. She cites Henry David Thoreau, the nineteenth-century poet and philosopher who wrote about his experiment in simple living in his 1854 book, Walden, or Life in the Woods.
"I read Thoreau in college and I knew that's what I wanted to do," she says. "Now, because my grandmother and mother conserved Woods Hole with an easement, I get to live in the woods. But I realize not everybody has this opportunity, and I like to share it."
For more details, rates and reservations, go to the Woods Hole Hostel  website.