August is Clean River Month in Grayson County, but almost every month of the year holds opportunities to get out and enjoy the river and the wildlife it supports, all thanks to the New River Wildlife and Conservation Club (NRWCC). Its 32-acre property is open to the public for river cleanups in August and fly-fishing clinics, hunter education courses, field-to-table workshops, mountain crafts workshops, nature walks, kayaking lessons, and floats throughout the year.
The club protected the property with an open-space easement donated to the Virginia Outdoors Foundation in 2006. The parcel is special, NRWCC's president Keith Andrews says, because of the diversity of habitats it encompasses. "You have the river frontage, and that's one ecosystem," he explains. "Then, a little inland, there's a vernal pond. And then there's the meadow, which just in the past year we've made a conscious effort to let grow more naturally so that it is more open to butterflies and other pollinators." From there an upland forest takes over, he adds, "So people can see it all."
The NRWCC advocated for the August designation and saw it adopted by the county board of supervisors in 2021. The designation means that the county pledges to work with organizations like the NRWCC to increase awareness of what the river has to offer and to promote and support cleanup efforts every August. "It's our biggest conservation project," says Andrews. "In August of 2021, we teamed with groups of corporate volunteers to remove 231 tires from the river. This year with volunteers we were able to remove over 200 tires again."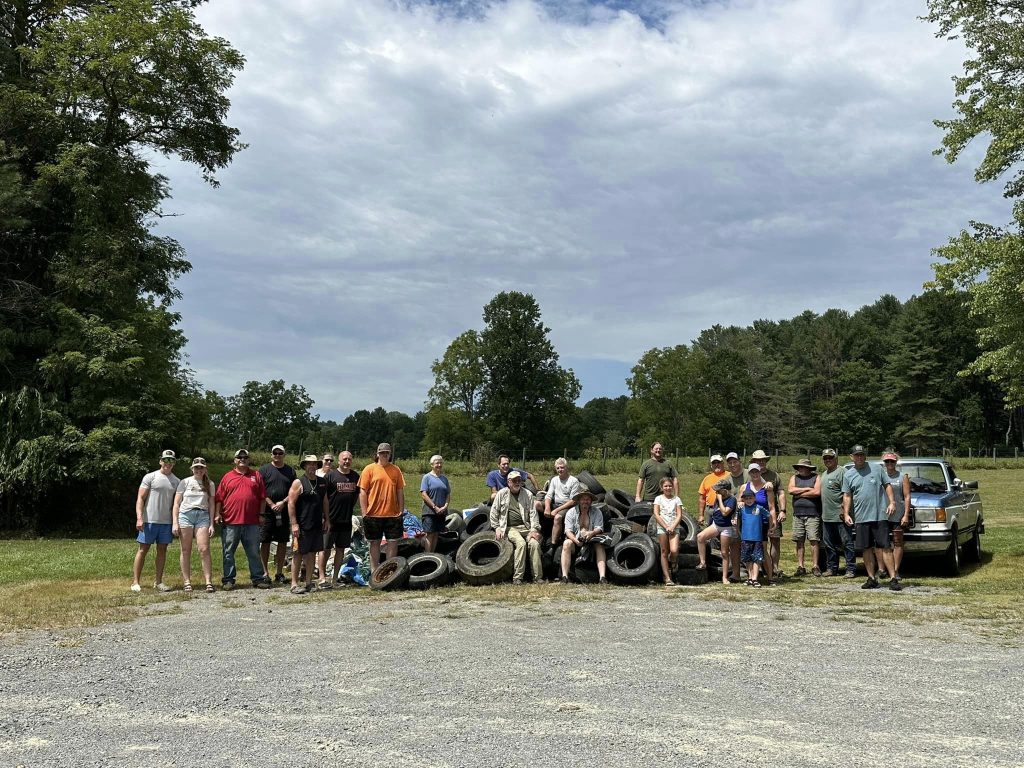 The cleanups are just one part of NRWCC's work. They also host citizen science training seminars like the Water Watchers Certification Clinic in partnership with New River Conservancy, and the Fish of the New Clinic in partnership with the Virginia Department of Wildlife Resources. Their objective, says Andrews, is "to start developing the next generation of stewards for the New." 
Andrews tells the story of one of those new stewards, a 9-year-old who was recognized for her participation in August clean-up activities with a Clean River Stewardship Award at the club's winter gathering. The awards were covered in the local paper. "This young lady, when she saw her picture in the paper, she was so proud of it that she took it to show-and-tell for her class the day after it came out," Andrews says. "That's how you start building stewardship."
Public events for Fall 2023 include a full program of hunter education classes, a club-sponsored kayak trip, an open house and nature walk and, in time for the holiday season, a folk toymaking workshop.
For more details about these and other events on the property, NRWCC has posted Fall 2023 Big Events calendar on their Facebook page.