Protecting land is just the first move in the long game of trail accessibility, says Heather Barrar, Regional Trails Program Director for Friends of the Lower Appomattox River (FOLAR). FOLAR is the lead organization working with many partners to put together the pieces of the Appomattox River Trail & Park system, which will eventually extend 25 miles, from Lake Chesdin in Chesterfield to Hopewell City Point at the convergence with the James River.
"First you need to build the foundation by protecting and securing public access to the natural assets," Barrar explains. Funding from VOF's Preservation Trust Fund in 2021 helped FOLAR with those first steps, assisting with the purchase of a riverfront parcel in Petersburg and protecting it with an open-space easement. By allowing for public access, the easement opens a crucial connector segment of the trail.
But there's more to accessibility than just a flat surface, Barrar states. The new segment was overgrown with invasive plants, which narrowed the trail corridor and made it difficult for people of all abilities to maneuver. "Accessibility is also about keeping these spaces as welcoming as possible to get more people to use them."
That's where Elise Neuscheler comes in. A self-professed plant nerd, Neuscheler was hired as FOLAR's first Environmental Stewardship Coordinator. The role was created in 2022 to scale up the organization's ability to host volunteer cleanups and invasive plant removal along the trail. A 2022 grant from VOF's Get Outdoors Fund and a grant from the Virginia Department of Forestry (DOF) helped jumpstart the position in its first year.
Neuscheler says part of her job is to break down the "green wall" for people who are new to working with plants. "Some people arrive with the passion and the knowledge," she explains. "Others arrive a little nervous about plants and just see a green wall.  I use volunteer events to introduce people to a few plants at a time, explaining why we care about native species and how to spot and eradicate invasive ones.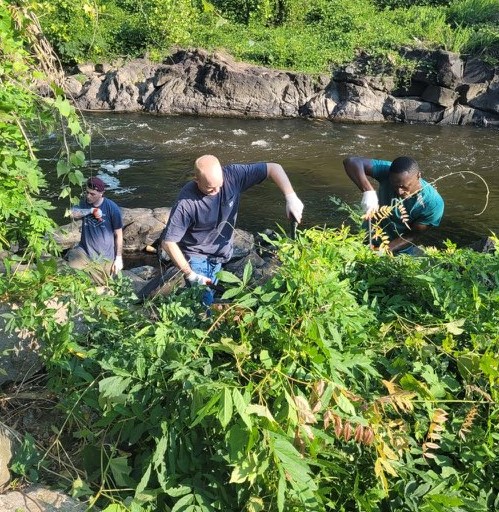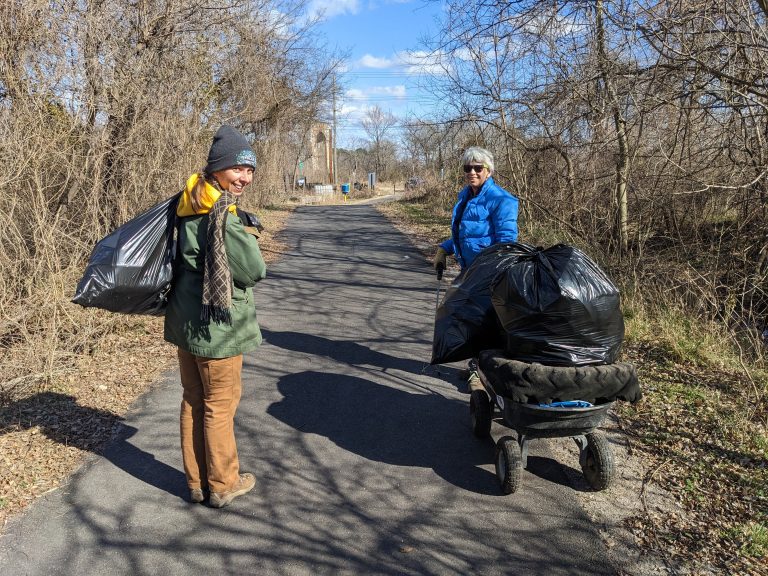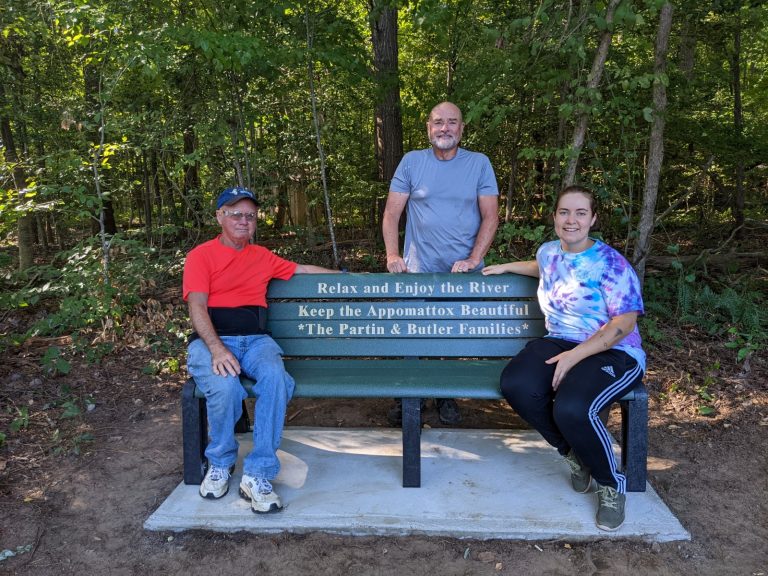 FOLAR's monthly Stewardship Saturdays, which Neuscheler developed and coordinates, have been successful at building a core group of repeat volunteers and in attracting new participants, thanks to the fact that people can choose their stewardship task, says Neuscheler. "People love to do different things. We have people who happily go off with a garbage bag and picker; others would rather help remove the invasive plants." DOF funding has ensured her position for a second year, growing it to full time and supporting the development of a comprehensive invasive plant inventory and removal plan, while VOF is working with multiple partners to protect more property that will close gaps in the trail system and protect the riverfront. Neuscheler is aiming to grow the volunteer base by establishing partnerships with corporate and school groups.
The results of this work are visible in the wildlife that has returned to this highly urbanized segment of the river. Along with the renewed presence of raptors and songbirds, Neuscheler says, other water-loving critters are showing up. "On a recent Stewardship Saturday, we saw a river otter squiggling down the Appomattox, right past VSU's waterfront." The animals are testaments to improved water quality since FOLAR has ramped up its outreach, and proof that what's good for the river is good for everyone.
For more information about FOLAR's Stewardship Saturdays and to sign up, visit the events page on their website.