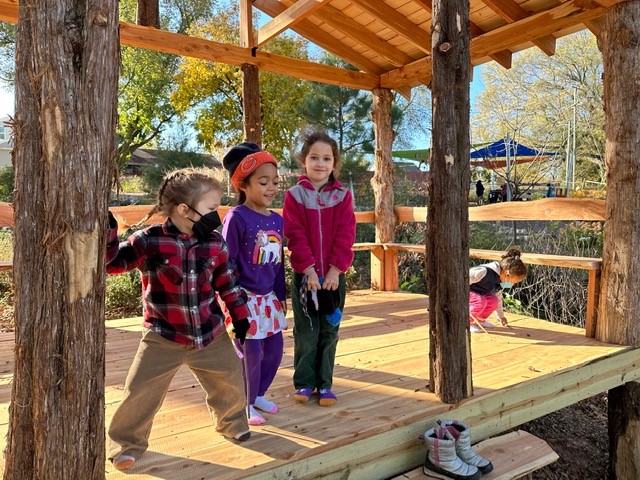 For Robert Argabright, access to the outdoors is all a child needs to make a lifelong connection with nature. "It's all about exposure," he says. "How do you visualize a mountain? How do you visualize a butterfly? How can you even relate to a watershed if you've never been to any of those places?"
For the past 12 years, Argabright and the Friends of Bellemeade Park have been working on an answer: the Bellemeade Park and Outdoor Learning Center, 8 acres of city-owned open space in the heart of Richmond's Southside. The once-overgrown parcel now hosts a bluebird trail, butterfly garden, rain garden, pollinator habitat, vermiculture bins, groves with native trees, and a chicken coop, offering the community diverse ways to engage with the natural world. A vegetable garden is the newest addition to the park, built by volunteers with the help of a $23,500 grant from the Virginia Outdoors Foundation's Get Outdoors Fund.
The space is busy all week long. The James River Association and Bluesky Fund are partners in weekday programming, and the park's Saturday Outdoor Club is run in partnership with Richmond's Collegiate School. Hundreds of students from Richmond and Chesterfield County public schools are slated to participate in other park programs in 2023. In all, approximately 2500 kids throughout the fall, spring and summer gain opportunities to learn, work and explore at Bellemeade. 
"These numbers will continue to grow," Argabright states. "Many of the teachers from Oak Grove Elementary are utilizing the park, as well. They love the chickens and love being in the park."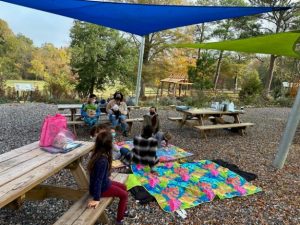 On a weekday morning in October, a group of homeschoolers worked under colorful shade canopies, part of a cohort of seven families who regularly come to learn and play. Said one mom, Ali, "We get to try out science experiments at this fantastic pavilion or we get to do nature journaling and reflecting at the creek. We can practice teamwork by growing [vegetables] in the garden, going from start to finish, so they can witness the whole cycle."
To ensure that families will continue to have access to all that Bellemeade has to offer, the City of Richmond Parks and Recreation department has received a $150,000 award from VOF's Preservation Trust Fund. The funds will make public access permanent, and will also be used to help construct a permanent outdoor classroom on the property. The classroom will allow for programming to continue throughout the year, says Argabright.
"All of the other features of the park are complete now," he adds. "We just have to maintain and fine tune some of them."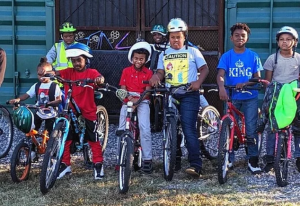 Argabright would also like to reach out to more neighborhood residents. "Seeing those homeschooled kids out here is the biggest thrill of my life," he says, but most of them come from outside the immediate area. The Friends group's goal is to get more residents of Southside neighborhoods aware of what is right next door. "We want everyone to see that this park is their park," he states.
For the people who've already discovered it, Bellemeade has become an essential part of their lives. As Ali put it, "We really love being here. This place feels like home."