When the ceiling of their historic building in downtown Tappahannock collapsed in May, the team at the Essex County Museum and Historical Society (ECMHS) had a backup plan: they took the museum outside. The grand opening of their new courtyard wasn't scheduled until June, but volunteers and staff were able to move some activities and scheduled events to the space during the month-long repair period. "We switched gears and were able to stay open while repairs were happening," says Meg Hodges, ECMHS's executive director.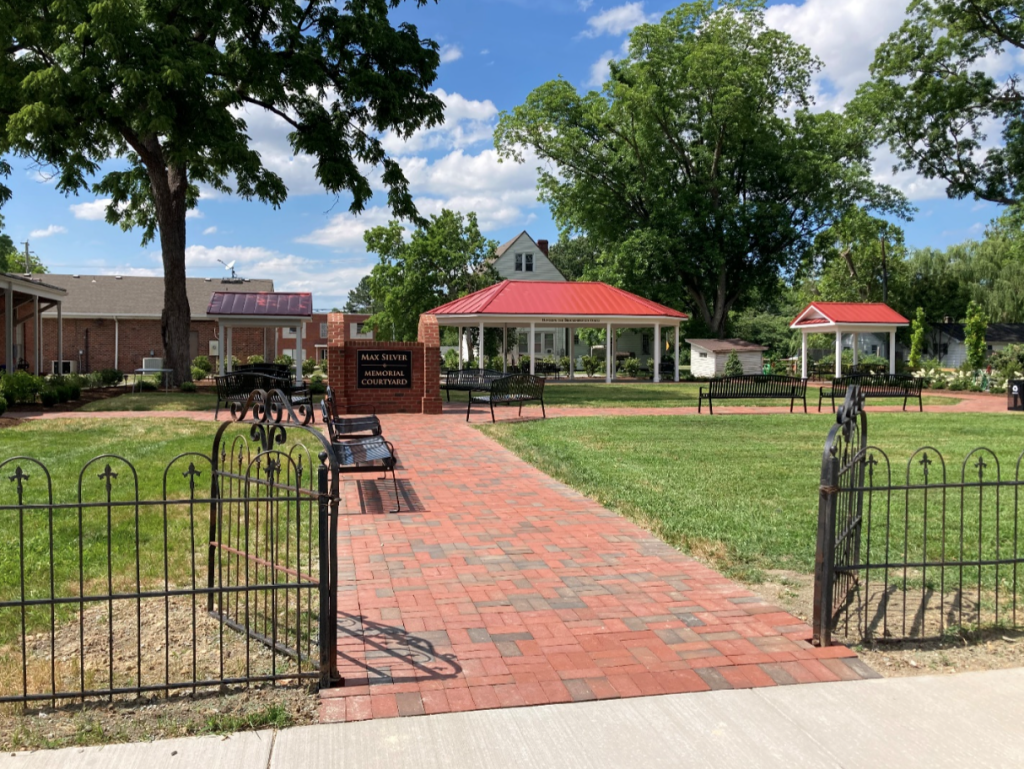 That quick thinking was instrumental in ECMHS's acquisition of the courtyard two years ago. "We found out that the folks who owned the lot behind the museum were interested in selling. It was too good to pass up—right out our back door and not even a block up from the [Rappahannock] river."
ECMHS started a capital campaign that attracted the attention of the Silver Foundation, a local nonprofit named for Max Silver, an immigrant from Ukraine who had settled in Tappahannock in the 1930s. The foundation acquired the lot on behalf of the museum, which now holds a 99-year renewable lease on the property. The lease stipulates that the property's intended use as open space cannot be changed.
With the space secured, Hodges says, "We returned to our capital campaign and created a game plan as to what we would do with it. Here in Essex County there's not a lot of access to the river or outdoor space. It's mostly private land and there's no state or county park. We wanted to create something that could be used by all."
A grant from Virginia Outdoors Foundation's Get Outdoors Fund helped ECMHS build walkways and solar lights. "It's one thing to erect a gazebo and pavilions," says Hodges, "but if they're not connected by walkways, not everybody can access them. And that's what the grant did for us: it helped us finish out the space and make it more user-friendly than it would have been."
The Get Outdoors grant also helped pay for an educational kiosk that tells the story of an African American riverboat pilot who lived on the site in the late 1800s, as well as the construction of a back entrance to the courtyard that leads to city-owned property on the river. Plans are to develop natural history and conservation programming to get visitors down to the water.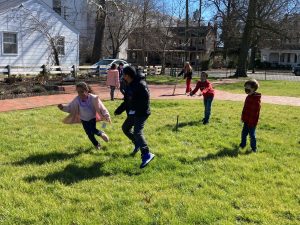 Other ideas for future programming include seasonal history walks starting from the courtyard, and an outdoor exhibit curated in collaboration with youth members of the Rappahannock Tribe. "The courtyard really frees us to do a lot more of the things we want to do," Hodges states. "One of the activities we've been able to add is outdoor play with 17th-century toys. Children roll hoops, jump ropes, play jacks and horseshoes. These activities feed into other conversations."
The activities are also just fun, Hodges adds. She remembers one little boy who approached her that day. "He was all out of breath from playing and was so excited," she says." He told me how much fun he'd had, and said, 'I've never spent so much time outdoors!'
"That's what we hope to do a lot more of. This space is for them."