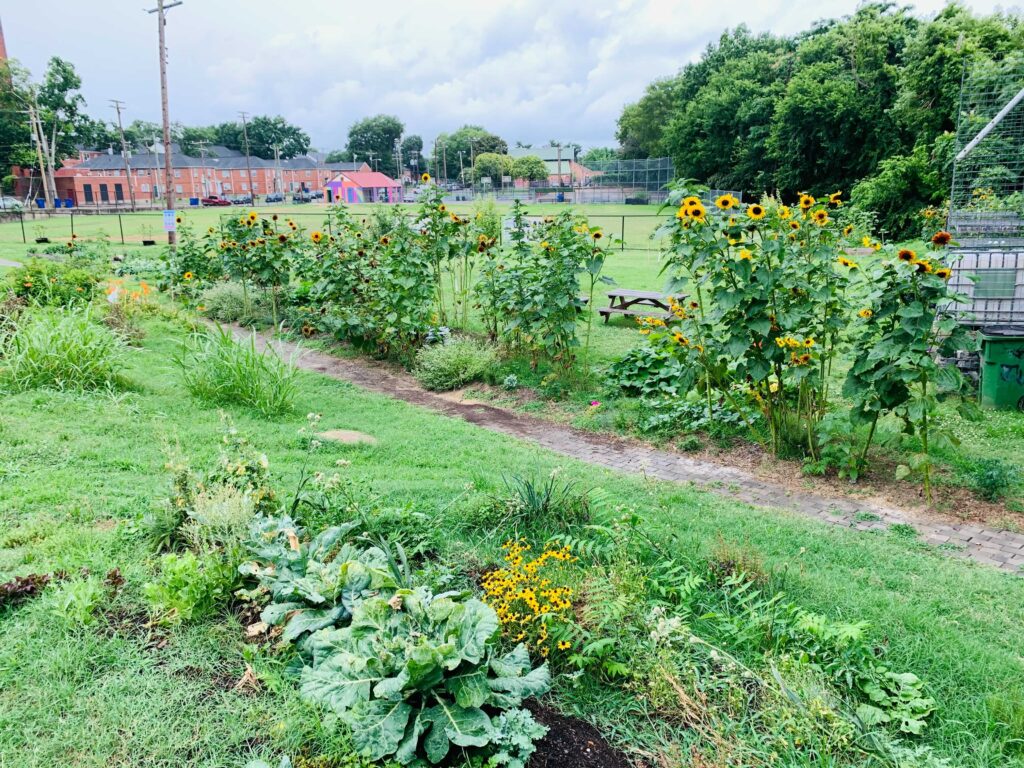 Alecia Venable sees change happening right outside her door. She lives in Mosby Court, across from Martin Luther King, Jr. Middle School, where a new community-focused initiative has transformed a parcel next to the school into a garden, with established fruit trees and plans for paths and raised beds. "I'm watching it grow," she says. "It's such a wonderful experience to watch the dream of the community come true."
Venable has done more than just watch, however. As a Mosby health ambassador, she goes door-to-door to make sure her neighbors are included in the process of deciding what the garden will offer. "I'm in the trenches," she says, "getting people engaged, letting them know the benefits of coming to the garden and telling us what they would like to see out there."
Venable's outreach work is part of a larger movement, Community Unity in Action (CUIA), a consortium of over 30 grassroots organizations working to address health and wellness issues within Richmond's East End since 2015. The brainchild of longtime Richmond activist and urban farmer Arthur Burton, CUIA has developed six growing sites in the area so far, all of which are helping to address food deserts and the lack of tree canopy that creates urban heat islands. A grant from the Virginia Outdoors Foundation's Get Outdoors Program is helping to fund improvements to two of the sites: MLK/Mosby and Gilpin Court.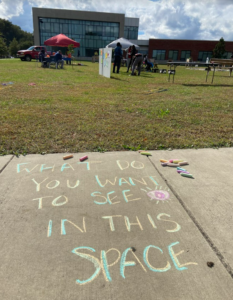 "We want to make the spaces more inviting," says Hannah Quigley, a food access specialist for the city's health department, which supports CUIA by writing and administering grant applications. The VOF grant will pay for raised beds, more fruit trees, and paths to encourage walking among the trees for the MLK/Mosby site. At Gilpin Court, which already produces a large vegetable harvest that is available to residents, the grant has funded a mural, signage, and site preparation for a future outdoor kitchen.
"The two sites are so different," Quigley notes, although she adds that they are both "steps away" from the communities they serve. "The MLK/Mosby site is smaller; it used to be just a pathway—a short-cut between neighborhoods. It's currently mostly used for restorative mental health practices and mindfulness during school hours." Efforts are underway to create a safe space for all during non-school hours as well, with possibilities for berry-picking, a space for kids to play, and a picnic area.
The Gilpin site is a larger-scale community garden, where raised vegetable beds provide food to residents. A portion of the site planted in sunflowers has become a destination, Quigley states, a spot for families to convene and take pictures.
Both Quigley and Venable look forward to partnering more closely with all the groups that make up CIUA. "In-school, after school, and community programming happen in isolation from each other right now," Quigley explains, "but we just had a re-kickoff meeting with all partners. We're really trying as a group to pinpoint more opportunities" to align the work and reach farther into communities.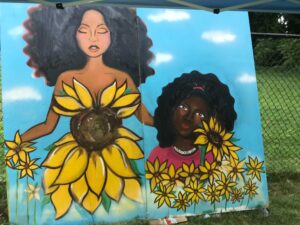 At the MLK/Mosby site, that means "engaging with the whole family and inviting them out to see what the community is building and how they can be a part of it," Venable explains. Or as Quigley puts it, "We need to make sure that the kids and their families understand it's not just their school, it's also their park."