The Blue Ridge Mountains lived up to their name with an uplifting blue that stood before us as we walked the tall grass. Flowers dotted the landscape, whose names I tried to quickly scribble down as the group of botanists I joined shared their knowledge.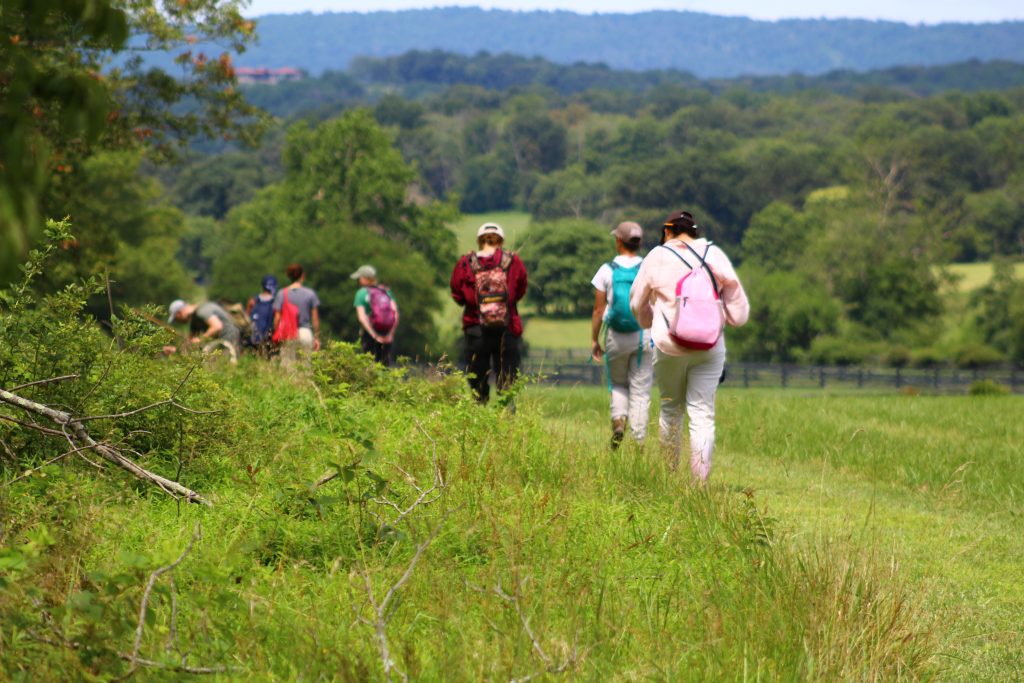 We were at the Oak Spring Garden, located in Upperville, VA, with the collaborative mission to get an overall count of the flora and fauna of the foundation's 700-acre property in a day's work – a bioblitz.
Surrounded by biologists and artists who participated in the bioblitz, an eagerness to learn, passion for nature, and interesting conversations hung in the air as we started the day. It was energizing and almost unreal to see unmasked faces and smiles enjoying the outdoors in search of scientific knowledge and artistic inspiration. More than once I heard the enthusiasm of "I hope I see…".
For Professor Andrea Weeks of George Mason University, what stood out was "certainly the weather", as the morning was still fresh and promised a good day for botany. She had her sights set on finding a new species of dandelion for the county while attending to her student's questions – and my own – on the plants we encountered. One of her students, Dalia Aguilar, said she was there to learn about plants, but what had called her attention was the people. We had a lively conversation in Spanish as she shared being inspired by meeting other minorities in science – like herself ("conocer gente de otras minorias como yo en la ciencia, es inspirador").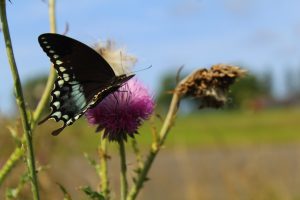 I spent quite a while walking with Jordan Coscia, an Ecologist and PhD Candidate at Virginia Tech University, who focuses on grassland restoration and management. She patiently shared the natural history of several plants and insects, such as green metallic beetles, milkweed longhorn beetles, horse nettle, the purple flowered thistle, and how "these present a problem in land management, as it is a hardy survivor and pushes out other plants. But it is great for pollinators".
The morning was not only about natural sciences – I had a conversation about Mayan culture and art and how all cultures are inspired by their natural surroundings with Marie Metz, a former scientific illustrator and current banknote designer for the USA Department of the Treasury. Angela Drakeford is one of OSGF's resident artists. She is currently working on watercolors, but is usually focused on installations using plants. We shared how plants make us feel and how they can create environments that makes us more grateful and joyful. She mentioned how much she focuses on natural beauty and helping people appreciate and create it in their homes.
We all had our sights set on the species around us, trying to find the rare and beautiful or find inspiration in it. The day delivered views of mountains, grassland, tree edges, and forest paths. Everyone shared their smiles as I took photos. For me, it was a day for people and pictures, a nice pause in social distancing and a great beginning to my new adventure/challenge as the Outreach Assistant for VOF.

All together it made for a great bioblitz!