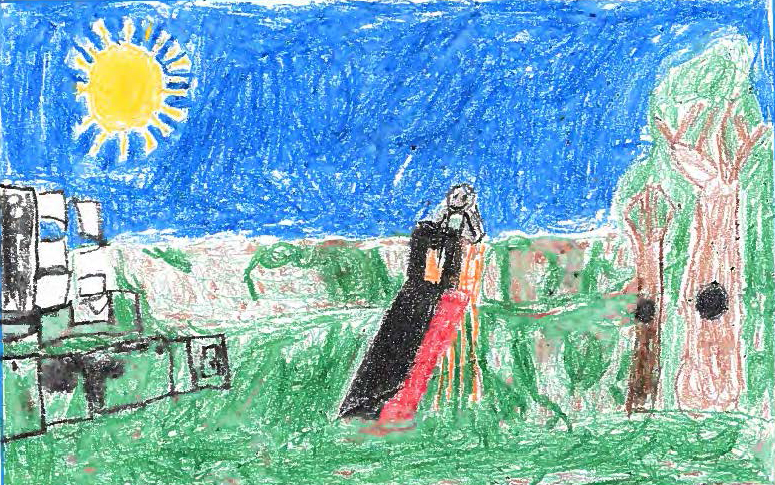 The Virginia Outdoors Foundation (VOF) today announced $1,262,831 in grants for projects that increase access to public open space in 25 counties and cities.
The 29 grants were awarded from VOF's Preservation Trust Fund and Get Outdoors grant programs. Preservation Trust Fund projects require land to be protected for public benefit through VOF or a local government under Virginia's Open Space Land Act. Get Outdoors grants focus on communities that have been inadequately served, overlooked, or harmed by unfair zoning, housing, and land-use practices or other systemic discrimination.
To learn more about VOF's grant programs, visit https://www.vof.org/protect/grants/.
Grant Recipient Summaries
Preservation Trust Fund
Grantee: Amherst County
Locality: Amherst County
Amount: $59,665
Project: Riveredge Trail Extension and Lee Park Project
Description: To acquire up to five acres along the James River to build the final 2,000-ft trail link between Riveredge Park and the James River Heritage Trail (JRHT) and to provide a public access point to the James River adjacent to the Fertilizer Road Trailhead.
Grantee: Belmead on the James, Inc.
Locality: Powhatan County
Amount: $150,000
Project: Drexel-Morrell Center
Description: To protect the 56-acre Rosemont property and create the Drexel-Morrell Center for environmental justice, which will tell the story of African American life impacted by the Drexel and Morrell schools.
Grantee: Blue Ridge Discovery Center
Locality: Smyth County
Amount: $150,000
Project: Blue Ridge Discovery Center Restoration of Historic Konnarock Training School
Description: To restore the historic Konnarock Training School, at the foot of Whitetop Mountain, to become the Blue Ridge Discovery Center for community-based outdoor education and recreation in Southwest Virginia.
Grantee: Capital Region Land Conservancy
Locality: City of Richmond
Amount: $150,000
Project: River City Middle School Greenway
Description: To acquire an 18-acre parcel adjacent to River City Middle School to provide outdoor education and recreation opportunities, and to serve as a trail connector of the James River Park System to Pocahontas State Park.
Grantee: Mitchell YOUniversity
Locality: Nelson County
Amount: $100,000
Project: Shipman School
Description: To protect a former school for African American students known as the "Shipman Colored School," which will be renovated with assistance from Preservation Virginia as a cultural community center with a focus on the arts, learning and entrepreneurship.
Grantee: Roanoke County
Locality: Roanoke County
Amount: $100,000
Project: Roanoke River Greenway and Blueway at Niagara Dam, Joining Explore Park
Description: To acquire 47-acres of forested land that will provide connectivity among Roanoke River Greenway, Roanoke River Blueway, Explore Park, and the Blue Ridge Parkway, as well as new recreational and educational opportunities for the community.
Grantee: Thomas Jefferson Foundation, Inc.
Locality: Albemarle County
Amount: $30,000
Project: Shadwell Trail; Old Mills Trail extension; Three Notch'ed Trail
Description: To acquire a parcel along the Rivanna River to dedicate a right of way access to Albemarle County, providing the final piece of land needed for the planned extension of the Rivanna River Greenway Trail, including public access to 3.2 miles of riverfront.
Grantee: Tidewater Trails Alliance
Locality: Surry County
Amount: $86,635
Project: The Birthplace of America Trail— Surry County Link
Description: To acquire an easement to create a 4-mile connection of the Birthplace of America Trail in Surry County, which will provide a multi-use trail, separated from cars, to an underserved population in the Hampton Roads region.
Grantee: Town of Blacksburg
Locality: Montgomery County
Amount: $85,000
Project: Meadowbrook Greenway
Description: To acquire a 3/4-mile right-of-way trail easement while funding design and engineering work for a greenway connecting to an existing trail network for pedestrians, cyclists, and horseback riders to the previously VOF-funded Brush Mountain properties.
Get Outdoors
Grantee: Agee Miller Mayo Dungy Pine Grove Project
Locality: Cumberland County
Amount: $24,465
Project: Pine Grove Park, Phase One
Description: This project will establish a multi-purpose, safe space on the grounds of the Rosenwald Pine Grove School and adjacent land. The future Pine Grove Park will contain cultural interpretive space, nature trails, and green space for community gatherings, and will extend the original mission of Pine Grove School by providing community-based experiential learning that incorporates nature, science, culture and the arts.
Grantee: Brunswick County Industrial Development Authority
Locality: Brunswick County
Amount: $25,000
Project: Trail Gateway Project
Description: This project will fund the purchase of a picnic shelter and playground equipment to be located along the Lawrenceville trail head segment of the Tobacco Heritage Trail, a path to outdoor recreation and relaxation.
Grantee: Charles City County
Locality: Charles City County
Amount: $25,000
Project: Harrison Park Walking Trail
Description: This project will provide county residents and visitors with a fully accessible looped trail at Harrison Park, a 19-acre community athletic park. The improvements include refinishing an existing partial asphalt trail, extending and existing trail and complying with ADA accessibility.
Grantee: City of Radford
Locality: City of Radford
Amount: $24,498.41
Project: James Oakley Fields Playground Improvements
Description: This project will renovate a neighborhood ballfield and install inclusive playground equipment at the park.
Grantee: College Park Elementary School
Locality: City of Virginia Beach
Amount: $10,020
Project: Outdoor Classroom for Early Learners
Description: This project will transform a barren, fenced-in blacktop into an outdoor classroom for students in kindergarten and 1st grade. This space will engage learners in critical thinking, promote creativity, develop problem-solving skills, and provide hands-on learning with outdoor tables and gardens.
Grantee: Community Unity in Action / Kinfolk Community
Locality: City of Richmond
Amount: $18,648
Project: Growing Food Justice in Richmond East End
Description: The Food Justice Corridor is a plan developed to transform food desert neighborhoods in East End Richmond, resulting in an empowered community through a holistic approach that provides marginalized people of color access to education and training around the benefits of urban farming as a pathway to healthy living and as an economic survival model.
Grantee: Dickenson County Board of Supervisors
Locality: Dickenson County
Amount: $10,450
Project: Bear Pen Recreation Park Project
Description: Park improvements will include a gazebo for educational field trips for kids and musicians to perform along The Crooked Road Music Trail, as well as opening access to the Pound River for recreation by having a kayak launch ramp.
Grantee: Essex County
Locality: Essex County
Amount: $25,000
Project: Rotary Poorhouse Park Trails
Description: This project will reconstruct trails destroyed in 2016 by a tornado. The county will also redo signage, perform road work and install a main gate.
Grantee: Fairfax NAACP
Locality: Fairfax County
Amount: $25,000
Project: Connecting the Community with Nature
Description: Fairfax NAACP, Calleva River School and United Community have partnered to provide an environmental education camp to diverse and underserved youth, ages 9 to 15, in Fairfax County. The 5-day day camp will run for four weeks in August with different students each week, where they will engage in a safe, green space, and participate in activities including rafting, stand up paddle-boarding and rock climbing.
Grantee: Franklin County Parks and Recreation
Locality: Franklin County
Amount: $5,000
Project: Capacity Building by Bicycle
Description: This project will support the Benjamin Franklin Middle School Mountain Bike Club to fund the purchase of 5 to 7 bicycles to provide equitable access to middle school students who would otherwise be unable to participate.
Grantee: Friends of Southwest Virginia
Locality: Tazewell County
Amount: $15,000
Project: Tazewell Area Trails East River Mountain/Big Dome Rock
Description: This grant will assist with the construction of two trail-running routes, kiosks at trailhead parking areas, and a "big tree" inventory of the East River Mountain site.
Grantee: Happily Natural Day
Locality: Richmond City
Amount: $25,000
Project: Community Gathering Space at Sankofa Community Orchard
Description: The Sankofa Community Orchard serves as a public urban green space with 80 fruit trees and fruiting shrubs in the Southside of Richmond Virginia. This green space serves a multi-faceted approach to increasing Richmond's urban tree canopy while addressing food insecurity through volunteer workdays and educational workshops.
Grantee: Holston High School
Locality: Washington County
Amount: $4,800
Project: Holston High School Bouldering Project
Description: This project will help construct a bouldering wall at Holston High School, providing a year-round training facility and a positive after-school environment for students.
Grantee: Mendota Trail Conservancy
Locality: City of Bristol
Amount: $24,000
Project: Bristol Trailhead Development
Description: The Mendota Trail Conservancy is transforming a 2.5-acre parcel at its trailhead in Bristol into a park-like space, which will be the community's primary access point for the 12.5-mile recreational trail.
Grantee: Richmond Cycling Corps
Locality: Henrico County
Amount: $5,000
Project: MTB Program
Description: This project will fund a youth biking program for residents of Richmond's East End through a variety of skill-level programs.
Grantee: Rivanna Trails Foundation
Locality: City of Charlottesville
Amount: $24,650
Project: Fifeville Trail Restoration Project
Description: This project will connect an income-qualified apartment complex and surrounding neighborhoods to Tonsler Park with a natural-surface trail through a use-agreement with a local landowner.
Grantee: Shenandoah Valley Bicycle Coalition
Locality: City of Waynesboro
Amount: $12,000
Project: Sunset Park Community-Centric Trails Planning and Stewardship
Description: This project will design and develop the first natural surface trails in the City of Waynesboro on a portion of the forthcoming Sunset Park, which was once a landfill.
Grantee: Town of Alberta
Locality: Brunswick County
Amount: $18,500
Project: Tobacco Heritage Trail Danieltown Extension
Description: This project will assist with the final design and engineering of a 5.2-mile extension of the Tobacco Heritage Trail to an area in the county known as Danieltown.
Grantee: Town of South Boston
Locality: Halifax County
Amount: $25,000
Project: South Boston Sinai Park Project
Description: This project will convert a 4.57-acre parcel on Westside Drive into a town park with picnic tables, a covered shelter, restrooms, and playground equipment.
Grantee: Virginia Capital Trail Foundation
Locality: Henrico County
Amount: $4,500
Project: Multi-Lingual Website and Trail Materials
Description: This project will create multilingual materials and provide a Spanish-language website to create a more inclusive environment and better serve Hispanic communities using the Virginia Capital Trail.