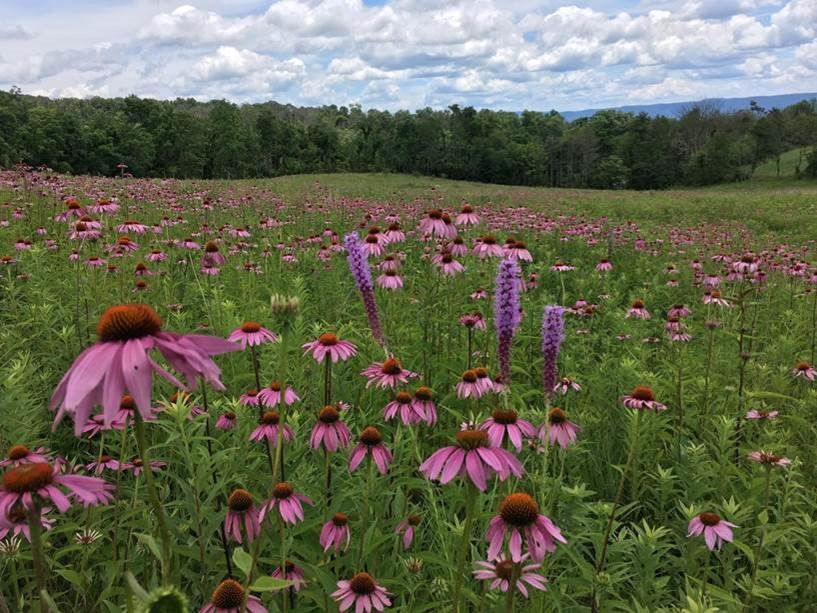 When Jeff and Ali Carithers fell in love with Spring House Farms in Shenandoah County, curb appeal had nothing to do with it: There were hundreds of old tires littering the 72 acres, patches of bare dirt, a double-wide trailer, and not much else.
But there was potential.
Beyond the abandoned hayfields lay stunning views of Massanutten Mountain and the Blue Ridge—strong selling points to the Iowa couple. Accustomed to the flat landscapes of the Midwest, "The contours of the land really appealed to us," Ali says. "And we both like tackling big projects." So they bought the property and set to work.
As they spoke with their new neighbors and did some research, the Carithers were surprised to discover that Iowa and Shenandoah Valley once had a landscape in common: wild grassland. In the Midwest, these flat, wide-open spaces are called prairies, and most have been converted to agricultural land. In the Valley, where rolling grasslands speckled with trees are more commonly called savannas, agricultural conversion and reforestation have infringed on them, as well, so that only a handful of fragmented areas—ones where it is impossible to change the land through cultivation—remain.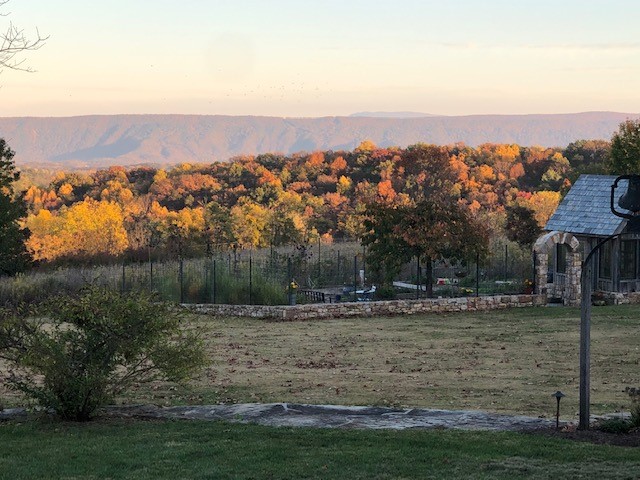 "You don't think of prairies when you think of Virginia," says Jeff. "But my father had done a little 3-acre prairie restoration back in Iowa. Once we understood what used to be here, it made sense to try to bring it back."
A Lost Landscape
Justin Folks, a biologist with the Natural Resources Conservation Service (NRCS), thinks that most of the land in Virginia used for crops, hay, and pasture today was grassland before the arrival of European colonists in the 17th century. Just a fraction remains. "It may be less than .0001 percent," he says.
Folks provides technical assistance to landowners who wish to manage their property as habitat for quail, songbirds, pollinators, and other animals that make early successional landscapes their home. These landscapes are characterized by native warm-season grasses and forbs (aka wildflowers)—plants that are the first to naturally regenerate after a fire.
Fire, or the lack of it, is another reason for the decline in grassland landscapes in the Commonwealth, says Folks. Native Americans once managed the land with purposely-set fires to maintain a landscape with few trees, "So a lot of land that was maintained as grassland by fire has shifted to forest," he explains. "Even if we turned all agricultural land back into grassland, it may still be less than what may have been in the Commonwealth before Europeans arrived."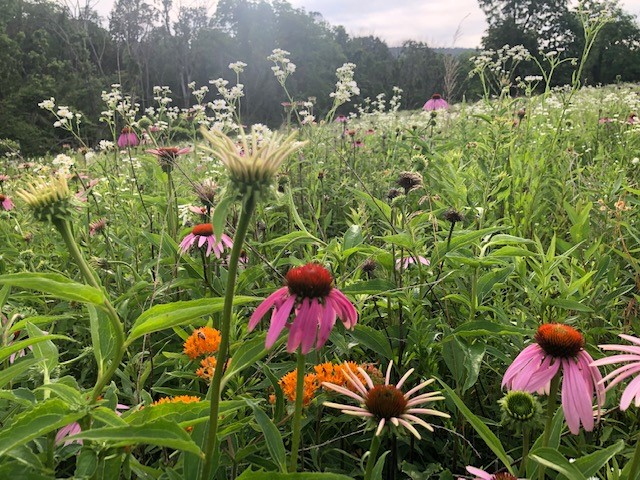 Although grassland and forest do much of the same work in filtering pollutants out of the water supply and reducing erosion, both landscapes are important to maintain because of the diverse types of wildlife they each support. Folks also points out that grassland may be more resilient than forest. Much of its biomass, and the work that it does, is invisible, in the form of roots that can reach up to 12 feet deep. This underground advantage makes grassland more drought resistant and adaptable to changes in climate than forest.
The Role of Private Lands
Considering the benefits to both people and wildlife, grassland restoration is gaining traction among Virginia landowners in the Shenandoah Valley and beyond. Even projects of 2 or 3 acres can go a long way in providing these benefits. Because the birds, bats, and insects that utilize these spaces are highly mobile, they can disperse seeds and pollen from one grassland to another, spreading these unique plants across large areas and increasing biodiversity across the state.
Brent Barriteau is a district conservationist with the NRCS whose territory includes Clarke, Frederick, Shenandoah, and Warren counties. He worked closely with the Carithers on restoring their hayfields to grassland through cost-share programs such as the Environmental Quality Incentives Program (EQIP). 
Although the Carithers had conservation as their primary goal, "People have all sorts of reasons for doing restoration projects," he says.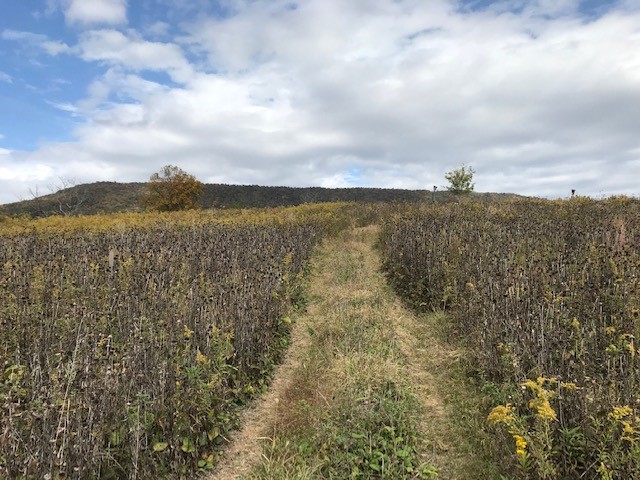 Some landowners who produce honey, for example, need fields of wildflowers where the honeybees can forage. Others might have vineyards or orchards where they want to decrease the use of pesticides, so they establish a border around their fields to provide habitat for the beneficial insects that prey on destructive ones.
Barriteau says that in the last 10 years, there have been 31 grassland restoration projects in the four counties he serves. Many of the individual projects were just a few acres, but combined they amounted to 337 acres planted with native wildflowers and native warm-season grasses. 
"And it's not just one cohort of people," he observes. "It's across the spectrum. Schools have participated, and private landowners—from retirees to lifelong farmers—who realize the benefit of establishing these plants as excellent habitat for gamebirds and deer."
Landowners can be awarded up to $1,000 per acre for the conversion of an agricultural field to early successional wildlife habitat through EQIP, which means little to no out-of-pocket expenses. Flower and grass seed costs $300-$400 an acre.
Barriteau emphasizes that grassland habitat and cropland can coexist. "We don't eliminate a crop for a grassland unless the owner has that conversion in mind. We just try to find the right balance."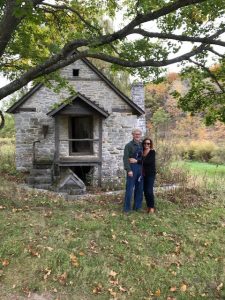 The Northern Bobwhite in Working Grasslands Initiative, for example, encourages livestock producers to incorporate warm-season grasses into their grazing system in the summer. Even as the grasses supply livestock with forage, they provide ground-nesting birds such as bobwhite quail with valuable habitat.
"My long-term goal is to work with all landowners who want to establish native plant communities on their property," says Barriteau. The point, he says, is to "establish as many acres as possible and hope Mother Nature helps distribute the plants outside the original area. Basically, reestablish the native seed bank."
Support for Landowners
With more than 60 acres in native forbs and warm-season grasses and 40 acres in forest, Spring House Farms has become a resource for local wildlife, and the Carithers have built a home among the wildflowers, with curb appeal to spare. To protect the soils from future development, they placed the property under easement with the Virginia Outdoors Foundation in 2007.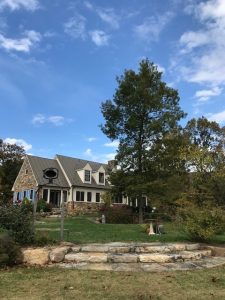 The couple has also created a model for others who are interested in reestablishing habitat. In May, they were planning to host other landowners at Spring House for "Get Paid to Go Green," an event organized by the nonprofit Sustainability Matters. "It's meant to introduce people to the government programs that can help with this kind of transformation," Jeff explains.
COVID restrictions meant that the event, which had 75 registrants, had to be postponed. It was converted to an online version in November. There was even more interest in the virtual event, Jeff says, with more than 500 participants from throughout the United States and even from other parts of the world. Sustainability Matters is planning is another event in the spring, focusing on grassland planning, planting and management.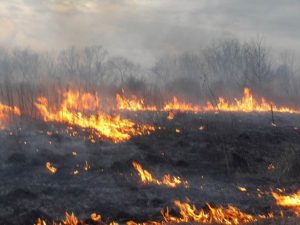 "Management includes periodic controlled burns and invasive tree removal, but the main work is enjoyment of the beauty of the forbs and variety of birds and other wildlife," Jeff says. The couple walks the property every morning and enjoys spotting everything from newts to indigo buntings to turtles.
They will have more to walk soon, as they are adding another 7-acre hayfield to Spring House that they will convert to grassland.
For more information on the benefits and beauty of grassland ecosystems, check out the Carithers' YouTube videos about Spring House, another collaboration with Sustainability Matters.
To find out more about grassland restoration and cost-share programs in your area contact your local NRCS field office.