The Virginia Outdoors Foundation has created three fellowship positions that will provide early-career conservation professionals with field experience and opportunity for growth.
The pilot Fellowship Program will be initially based at VOF's Bull Run Mountains Natural Area Preserve on the border of Fauquier and Prince William counties.
Fellows will be working onsite at the Preserve both in the field and in the VOF Research Outpost. Joe Villari, the preserve manager, has tailored the program to the needs of the Preserve and to those of the fellows themselves.
"It's really important that we create something that allows them to succeed and provides them with experience related to the type of the job they want," he says. "People just starting out in the conservation field are not often given paid opportunities to build their research portfolio."
The Preserve is the perfect place, he adds. "There is just so much here to study. We have a multitude of resources that are waiting to be explored."
The fellowships cover three categories: Natural Sciences, Cultural History, and Special Projects. The first two categories are open to the interests of the fellows; the last will enlist their expertise on projects that Preserve staff have already identified.
Each fellow will be paid for 360 hours and have a working material stipend of $800 dollars.
The Natural Sciences Fellow has already arrived on site with her own research goals. Meredith Hart is a Virginia native who is currently pursuing a B.S. in environmental science with a concentration in wildlife studies and a minor in global health.
The different disciplines that ground her research all boil down to one topic: bugs. Hart will work with Preserve staff to conduct a large-scale invertebrate biodiversity survey and analysis. She also has funding from George Mason to conduct a second study of ants and the effects of urban locations on their life cycles.
Hart will launch both projects in mid-May, setting the traps she needs to catch and release specimens for the count.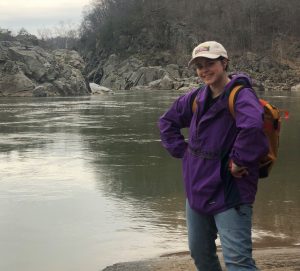 Her interest in bugs was sparked when she met a scholar from the National Institute of Health who told her about a cockroach that produces a type of milk for its young. "I was fascinated by the idea that something like that even existed," she says now. "It was a career-changing moment for me, and I had to find out more." Her research culminated in an honors poster presentation on the unusual critter and its potential as a future source of protein for people.
"Eating insects is an integral part of human evolution, and it's part of a sustainable future." She adds, "They're also pretty tasty."
Hart will work on the survey over the summer, setting out aquatic and pitfall traps for the various bugs who live on the Preserve. She also plans to publicize her findings with blog posts on VOF's website. She will post her findings regularly, with some fun bug facts thrown into the mix.
By the end of the summer, she will have enough data on ants to present at a national conference for undergraduate research.
Villari hopes the success of this pilot effort will lead to funding for more fellowships in the future. "The idea is to be able to put forward a portfolio that shows what we were able to do with the amount of money we allocated ourselves this year. Then we can ask outside funders for more, so that we can do more." Follow fellowship-related posts on our Bull Run Mountains page or the Preserve's Facebook page.