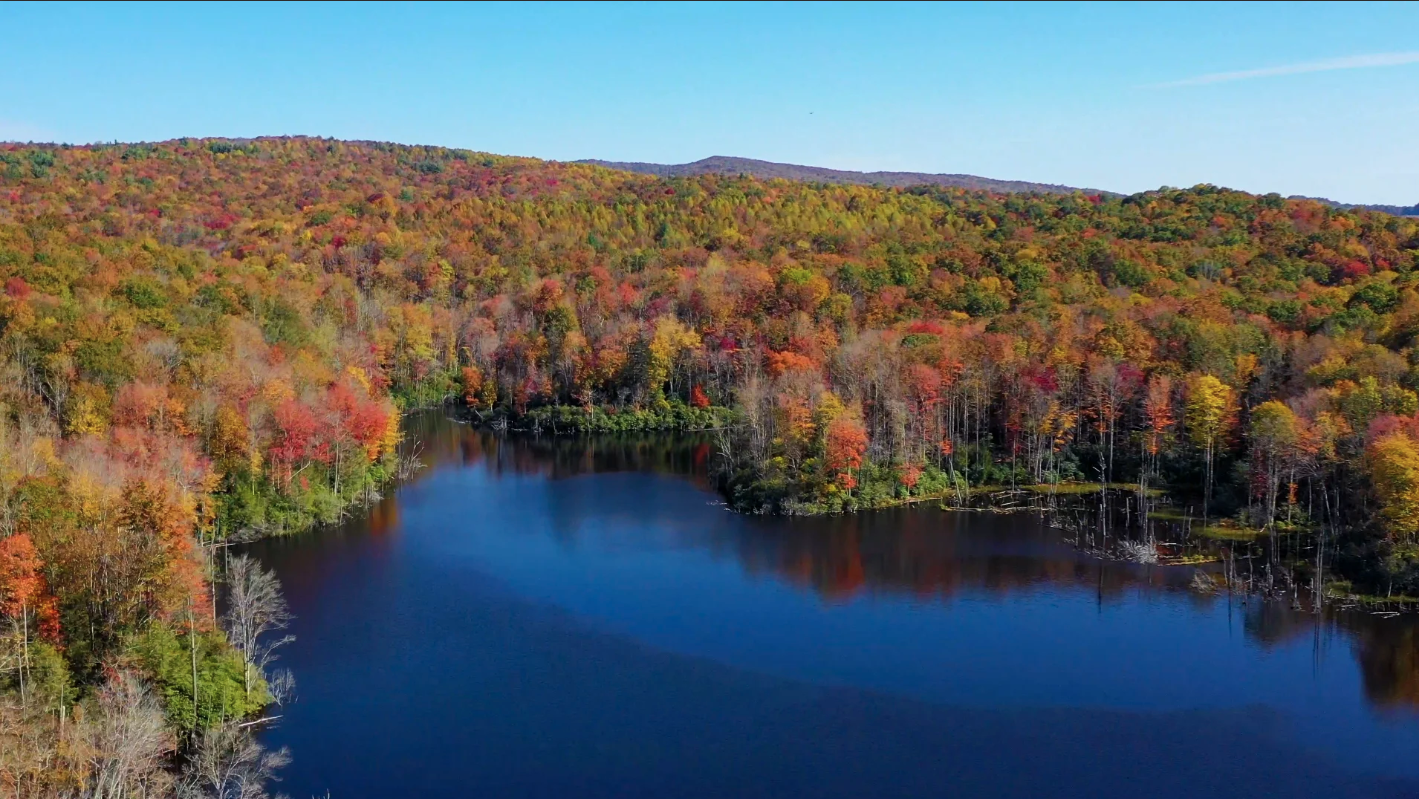 The Virginia Outdoors Foundation (VOF) today announced $2,275,154 in grants for projects that protect open space for public benefit in 21 counties and cities.
The 22 grants were awarded from VOF's Preservation Trust Fund and Get Outdoors Fund grant programs. The Preservation Trust Fund program provides grants for acquisitions, easements, rights of way, and other methods of protecting open space for farming, forestry, recreation, wildlife, water quality, and more. The Get Outdoors Fund provides grants for projects that increase safe access to open space in communities.
To learn more about VOF's grant programs, visit https://www.vof.org/protect/grants/.
Grant Recipient Summaries
Preservation Trust Fund
Grantee: Capital Region Land Conservancy
Locality: Chesterfield County
Grant Amount: $360,000
Project Title: Burton Family Farm: Brown Parcel
Description: Phase 2 of the Burton Farm consists of 1 parcel, in Chesterfield County, owned by Bernard Brown. The land for this Black Century Farm was first purchased in 1896. CRLC is working to assemble various parcels that have been divided off to preserve a fraction of the original farm to continue its agricultural uses and allow for historical interpretation of the emancipation of enslaved people along the Richmond/Petersburg turnpike in 1865. This second phase would add to this goal.
Grantee: City of Norfolk
Locality: City of Norfolk
Grant Amount: $404,625
Project Title: Elizabeth River Trail Larchmont Trailhead
Description: This project focuses on establishing the Larchmont Trailhead for the Elizabeth River Trail. The trailhead will include asphalt trail improvements, accessibility improvements, new signage, and a kayak launch.
Grantee: City of Suffolk
Locality: City of Suffolk
Grant Amount: $44,550
Project Title: Hobson Park Project
Description: The City of Suffolk would like to purchase a 0.32-acre parcel in the Hobson neighborhood of Suffolk in order to provide a community space for playing, relaxing, and recreating. There is currently no playground or public park in this community.
Grantee: Franklin Parks Foundation
Locality: City of Franklin
Grant Amount: $100,000
Project Title: Deer Creek Addition to Blackwater Park, Pt 2
Description: The Franklin Parks Foundation, in partnership with the Virginia Outdoors Foundation, will acquire these 96 acres of prime river frontage on the State Scenic Blackwater River for the creation of additional parkland and a primitive camp site. This property contains old growth hardwood bottomlands and contains forestlands categorized as FCV 4 & 5 (60 acres). The tract sits at the intersection of two Natural Heritage sites, the Blackwater River Main Stem Conservation site, and the Antioch SCU.
Grantee: Friends of Southwest Virginia
Locality: Wise County
Grant Amount: $150,000
Project Title: Big Cherry Lake, Big Stone Gap, VA
Description: An outdoor development initiative at Big Cherry Lake is underway to create a day and overnight destination that will enhance the High Knob area experience. The Town of Big Stone Gap owns the 250-acre lake; with support from the federal and state government, the Town has secured funds to create walking trails around the lake and develop 18 campsites at Big Cherry Lake. The next phase, and the purpose of this funding request to VOF, is to install a concrete boat ramp, courtesy pier, dock and ADA fishing pier.
Grantee: Little Creek Kung Fu
Locality: City of Petersburg
Grant Amount: $177,184
Project Title: Little Creek Native Free Food Forest
Description: We currently own 117, 115, 113, 109, & 105 N. Burch St. where we have already dedicated a tremendous amount of time and effort to the establishment of a Native Free Food Forest; aside from adding one more shed/building & a border fence (+ lots of watering, weeding, clearing, & planting), the remainder of the more substantial construction is nearing completion. Natives planted are: plum, persimmon, hazelnut, serviceberry, chokeberry, beautyberry, pawpaw, blueberry, + many other herbs & pollinators.
Grantee: Shenandoah County
Locality: Shenandoah County
Grant Amount: $300,000
Project Title: Shenandoah County Conservation and Public River Access Along the North Fork of the Shenandoah
Description: This project would enable Shenandoah County to purchase a 14-acre parcel located along a portion of the North Fork of the Shenandoah River that recently received its scenic river designation. We plan to grant VDOT an easement to build a new road and provide better transportation access to 7 Bends State Park, a 1,066-acre park located on the opposite side of the river and to grant DWR an easement for public river access boat ramps and parking then place the parcel under conservation easement.
Grantee: Town of Dungannon
Locality: Scott County
Grant Amount: $150,000
Project Title: On the Clinch to Learn, Discover, Enjoy
Description: The Town of Dungannon is creating a community-owned river research and learning center by (1) purchasing private property adjacent to and overlooking the local community river park (doubling the size of the existing park), (2) converting it to a public green space and environmental education center, and (3) building an outdoor classroom, greenhouse and walking trail at a nearby school that will connect to the Center. The Center is partnering with local high schools, colleges and civic groups.
Grantee: Town of Honaker
Locality: Russell County
Grant Amount: $148,000
Project Title: Town of Honaker Outdoor Recreation Expansion
Description: Our goal is to purchase the property at 100 Fairmont St. that joins Lewis Creek. We have permission from the current owners to use the trails and the Creek for our Annual Kids Fishing Day (stream is stocked with trout free of charge for children aged 15 and under). The property is now for sale, and we are at risk of losing access to the trails and stream. If successful, we plan to build a bridge across the stream to connect trails on both sides of the stream for people of all abilities.
Grantee: Town of Vinton
Locality: Roanoke County
Grant Amount: $218,295
Project Title: Vinton's Multi-Generational Park
Description: Vinton, Virginia is building its first multi-generational park to promote healthy living and community engagement. The park's mission aligns with the Town's branding slogan, Are you IN?, aiming to encourage locals to participate in outdoor activities and connect with their hometown and neighbors. The 5-acre park will be centrally located and boast a stunning view of the Roanoke Valley. The Town is the landowner of the park site, and it will be developed in different phases.
Get Outdoors
Grantee: Autism Sanctuary, Inc.
Locality: Albemarle County
Grant Amount: $25,000
Project Title: Weekly Respite at Autism Sanctuary
Description: Autism Sanctuary is a nonprofit respite space in Central Virginia created to serve the local autistic population. Through our walking trails and farm, we provide an engaging outdoor environment for all individuals regardless of their needs. We are seeking support to implement a weekly outdoor enrichment and education program for autistic individuals with high support needs who may receive fewer community services. Funding will allow our program to thrive and support many local families.
Grantee: Botanical Garden of the Piedmont
Locality: Albemarle County
Grant Amount: $15,000
Project Title: Equitable Access to World Water Week Programming
Description: This collaborative project will transport disadvantaged children in Charlottesville summer programs (YMCA, Boys & Girls Clubs, Abundant Life Ministries, City of Promise) to outdoor water-themed educational programming in Botanical Garden of the Piedmont (BGP) and Ivy Creek Natural Area (ICNA) in anticipation of World Water Week. Age-appropriate activities will include water quality testing, ecological hikes, water bird identification, nature literacy and nature-themed art programs.
Grantee: Dungannon Elementary School
Locality: Scott County
Grant Amount: $25,000
Project Title: Get Up & Go Playground Project
Description: Our playground project would include the purchase and installation of a playground structure with climbing walls, slides, and other fun, outdoor recreational pieces such as seesaws and balance beams for ages 2-12. There will be benches placed around the playground structure for children to rest and for teachers/parents to be able to supervise. We would also like to purchase a shade structure to provide protection from the sun. Playground borders and mulch will be used for safety purposes.
Grantee: Friends of Fonticello Park
Locality: City of Richmond
Grant Amount: $20,000
Project Title: The Native Meadow Project: Creating Equitable Access to Natural Urban Educational Spaces in Fonticello Park
Description: The native meadow will be an educational natural space, where children and community members can learn about native, local ecosystem plants, how they support wildlife and pollinators, increase soil health, and contribute to cleaner waterways. We will facilitate work with neighborhood schools and organizations to have kids part of the project, including plant selection, design of the space, prepping the land, planting, and participating in future maintenance and educational programming.
Grantee: Greater Richmond Fit4Kids
Locality: City of Richmond
Grant Amount: $10,000
Project Title: Fit4Kids Game On, Girl! Field Trips
Description: Fit4Kids Game On, Girl! program empowers adolescent girls to be physically active and nutritionally fit, through a 10-week, after-school program. Coaches introduce girls to a variety of individual and team sports. The nature of after-school programs pose limitations to the activities students can participate in. This project would allow Fit4Kids program staff to lead girls on active, outdoor field trips where they can enjoy the open spaces surrounding them to increase access to nature.
Grantee: Ivanhoe Civic League
Locality: Carroll County
Grant Amount: $25,000
Project Title: Ivanhoe Civic League Park & Horse Show Grounds
Description: The League has owned and operated Jubilee Park and Horse Show Grounds for more than 20 years. All the facilities are in need of rehabilitation and improvement. Plans include placing new gravel surface on existing roads and creating a new entrance road, renovation of the existing music stage, concession and bathroom facilities, and horseshow ring, as well as improving camping sites, including adding (water, electric and septic hookup) sites, and adding a new fitness trail and playground area.
Grantee: Keep Prince William Beautiful
Locality: Prince William County
Grant Amount: $10,000
Project Title: Dale City Elementary Trail & Outdoor Classroom Improvement
Description: Dale City Elementary School currently has a trail that runs from the school to a section of the Neabsco Creek. This trail has been used by teachers to access the creek to teach students about water quality, conduct Meaningful Watershed Educational Experience (MWEE) activities on site and in the outdoor classroom located along the trail. Erosion and weather event impacts have made the trail impassable. Keep Prince William Beautiful will implement a trail and outdoor classroom renovation.
Grantee: Middle Peninsula Planning District Commission
Locality: Gloucester County
Grant Amount: $25,000
Project Title: MP-PAA Trail Blazer Initiative
Description: The MP-PAA is proposing a trail creation project at publicly owned Captain Sinclair's Recreational Area (CSRA) to provide underserved citizens better access to public property. CSRA recently doubled in size from 100 to 200 acres. Knott Alone-Hold Fast Inc, a nonprofit organization providing hands on nature-based therapy to veterans battling effects from military service, will contract with the PAA for veterans to plan and build an estimated 3-5 mi of unimproved trails as integrative therapy.
Grantee: Sperryville Community Alliance
Locality: Rappahannock County
Grant Amount: $15,000
Project Title: Sperryville Trail Forest Canopy Restoration
Description: Expand existing project scope by removing invasive species from new areas along the Thornton River and planting them with native trees to complete the restoration of the tree canopy. Add interpretive signs describing the riparian enhancements. Project will encourage residents and visitors of all ages to relax and enjoy the river's natural surroundings while accessing the village's many amenities in a safe walking environment. Increases safe access by users to new areas of the trail.
Grantee: White House Farm Foundation
Locality: Prince William County
Grant Amount: $25,000
Project Title: Accessible Bird Watching at Leopold's Preserve
Description: Enhance accessibility of key birding locations at Leopold's Preserve, with particular focus on access for underserved visitors who face mobility challenges. Redesign elements of the wetland observation platform to ensure that visitors who use wheelchairs have unobstructed views of the landscape and can easily read the interpretive signage. Add seating around the platform's edge. Extend the length of paved trail to add a second accessible viewing location, including a bench.
Grantee: Wildrock
Locality: City of Charlottesville
Grant Amount: $2,500
Project Title: Wildrock's Outdoor Explorers Program
Description: Wildrock's Outdoor Explorers Program will bring children from a Title 1 elementary school to a local park where staff will facilitate nature play. The curriculum will incorporate environmental science and social and emotional learning. Children will be invited based on needs identified by school mental health professionals.
Grantee: Youth Sailing Virginia Inc.
Locality: City of Hampton
Grant Amount: $25,000
Project Title: Start Sailing Early at Youth Sailing Virginia!
Description: The shovel-ready project expands programs to elementary school-age kids by buying 6 Sail Cube beginner boats and 6 sets of tier 1 sails. The infrastructure upgrades increase access to open public outdoor water spaces and bring us within reach of upgrading 100% of our fleet of 18. It expands water safety and sailing instruction to underserved youth at all skill levels. The project builds diversity and maximizes access to outdoor sailing for all socioeconomic backgrounds, teaching life skills.