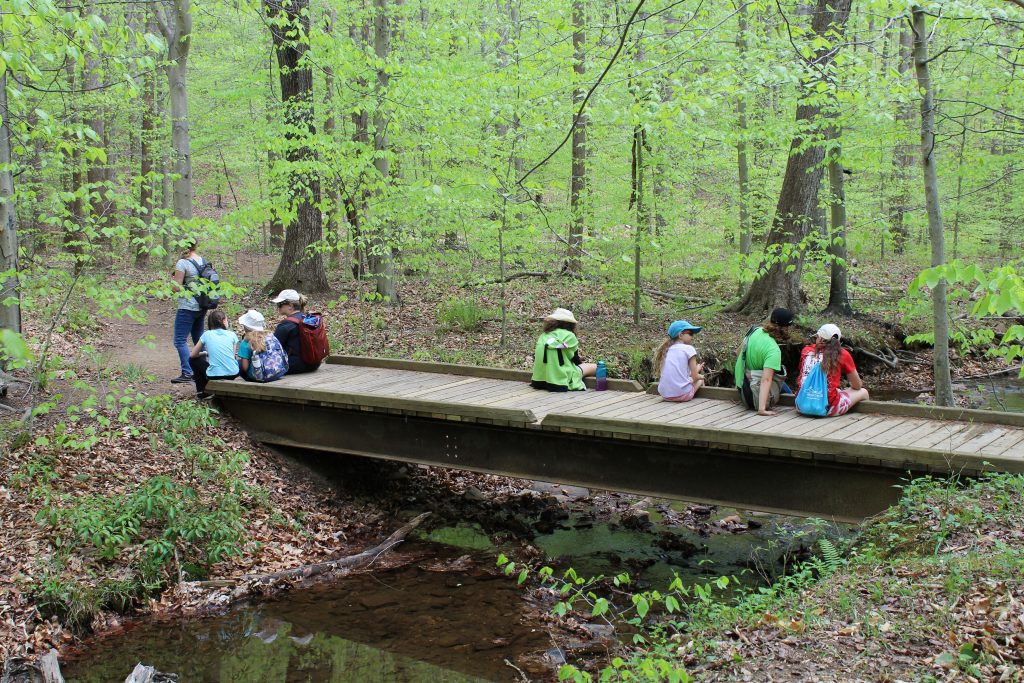 The Virginia Outdoors Foundation recently helped 135 members from Girls Scouts Nation's Capital (GSNC) earn outdoors-related badges at VOF's Bull Run Mountains Preserve. In four April events, scouts explored the preserve on guided hikes with VOF conservation assistant Deneith Reif and GSNC program specialist Courtney Bigbee. The girls (and a few parents) saw spring wildflowers, native trees in first leaf, and the flight of juvenile winged ants on their way to starting new colonies.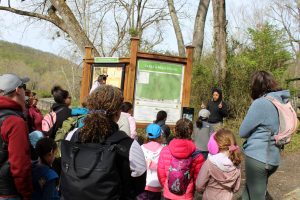 Badges are a record of scouts' progress as they build areas of expertise. There is an "Outdoors" category for badges, with individual badges geared toward different age groups, from younger Daisies and Brownies (K-3rd grade) to older Juniors and Cadettes (4th – 8th grade).
To earn their Eco Learner and Outdoor Adventurer badges, Daisies and Brownies learned how to protect the environment as they explored the outdoors, including the principles of Leave No Trace. During the guided hike, the girls practiced eating their snack on the trail, making sure to pack up all garbage and take it with them. "In many cases the scouts were actually better than the adults," Reif says. "It was very cute and funny to see them giving reminders to their parents about how to do that."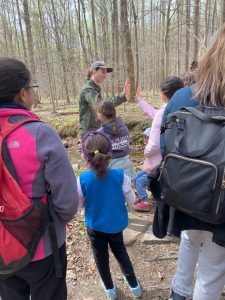 Juniors and Cadettes earned badges that showed they understand the structure of flowers and trees and can identify native species. "Deneith did an amazing job with our older scouts who were interested in the science of it all," says Bigbee. Reith adds that some of the older girls were also interested in the cultural assets present on the preserve. "There were a couple of girls who were drawn to a Victorian headstone in the Dawson cemetery. There was something for everyone."
Reif and Bigbee are looking forward to developing more opportunities for the scouts to come out to the preserve. "We will list volunteer opportunities for our scouts to be able to earn hours that can be used towards different projects," Bigbee says. "The Girl Scouts' mission is to build girls of courage, confidence, and character who make the world a better place. Experiencing and volunteering at the preserve is one of the best ways we can think of to achieve those things." Troop leaders interested in bringing a group out to the preserve can reach out to Reif (dreif@vof.org) or preserve manager Joe Villari (jvillari@vof.org) to set up an event.