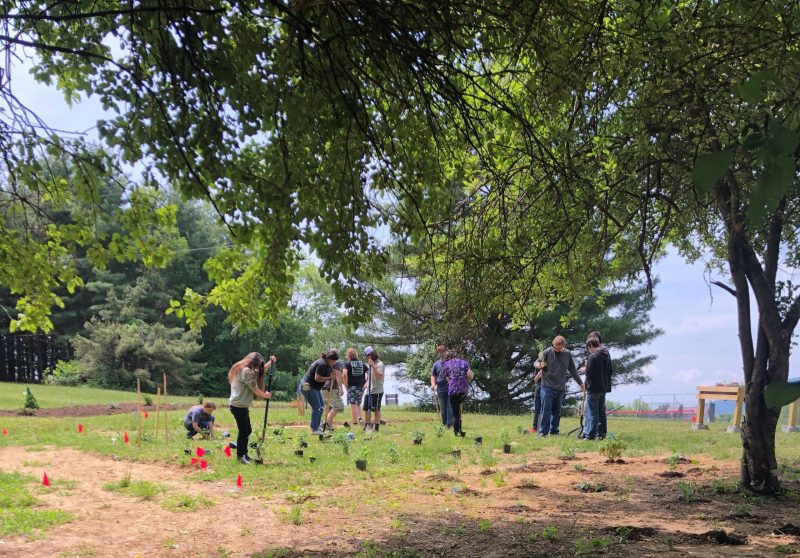 Pulaski High School agricultural science teacher Carley Pavan-Ballard has always striven to keep students engaged and active in her courses. When the school reopened in the fall of 2020 after six months of COVID-19 lockdown, she says, it became even more important. "They were stir crazy in the classroom. I only had them one day a week and they were climbing up the walls."
Taking her classes outside and getting them moving was the logical solution, so Pavan-Ballard started bringing students out to clean up the trails on the wooded lot next to the school. However, several kids with mobility or visual impairments couldn't participate. An exception was Eden Helms, who always joined in, Pavan-Ballard says, despite a visual impairment that had led her to use a probing cane. But the cane wasn't much help on the trails, Pavan-Ballard recalls. "It was like an obstacle course."
Eden agrees. "The most difficult parts for me are the fallen branches and uneven ground. It's hard to walk when you can't see what is coming up next." But it was important for her to be included and to be outside, she states. "My favorite thing is feeling the sunshine on my back and breathing the fresh air. I use my other senses to enjoy things."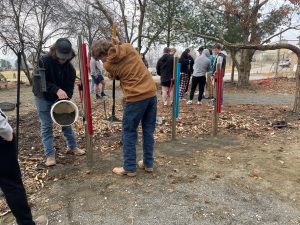 Eden's and other students' experiences accessing the spaces outside of the school led all Pavan-Ballard's students to ask how they could help the campus become more inclusive. Their answer: build an accessible sensory loop trail around the old apple orchard next to the school. 
Sensory trails are designed to immerse kids in all their senses as they walk a trail. They provide stations that get kids to slow down and experience nature through sound or touch. Making a sensory trail accessible means taking mobility issues into account, with extra-wide and smooth paths that allow for wheelchair access. "Accessibility was a primary goal," Pavan-Ballard says, so that students pre-K through 12 could enjoy the trail, whatever their abilities.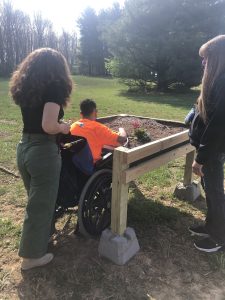 All her students got involved quickly in designing and building the trail. To inform their efforts, they would walk the trails with their eyes closed, using another student as a guide. "It was a way for them to see how truly difficult it is to be out there without sight," says Pavan-Ballard. "We also used a wheelchair so they could experience what it's like to move around on wheels."
The immersive stations, too, were thoughtfully designed by her students. There is a touch garden where students built a three-tiered raised garden, filled with plants that offer unique textures. "Lamb's ear is incredibly soft, so we planted a bed full of it next to purple coneflower," she says, "which is super prickly."
A VOF Get Outdoors grant awarded in 2022 included funding for guide ropes and poles, an ADA-accessible picnic table and benches, and a standing calypso instrument for the sound garden. "It's like a big xylophone and it makes soft, calming tones when you play it," Pavan-Ballard explains. The sound garden also has birdfeeders, running water, and plants that make rustling sounds when the wind blows.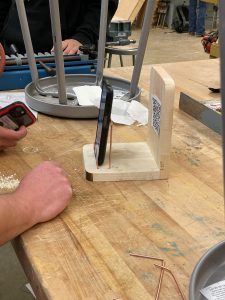 Eden's input was essential, says Pavan-Ballard. "She played a huge role, as her ease in movement on the trail was something we studied hard." Several of Eden's suggestions were used in the final design, such as installing guide ropes along the trail and adding a rock bed to the sensory garden. From Eden's perspective, rocks are one of the best things about the trail. "I like the way they feel, and to find ones that feel different than the others." She says that she keeps the ones she likes in her pockets, a little piece of the outdoors that she can take with her.
"From a big-picture perspective, it's an outdoor educational space, but when you look at every element that goes into it—horticulture, architecture, engineering, art–we're doing so many different things and working with so many different classes that we're making something that's truly unique. Everything in there was imagined and developed by our students."
Watch a short video produced by Pulaski High School TV Media students that teaches about monarch butterfly habitat, accessible on a phone through a QR code at the garden.