This week we are thrilled to feature an account of working in the Bull Run Mountains from one of the Preserve's most dedicated volunteers, Janis Stone.
Janis has graced the Preserve with her many talents, interests, and countless hours of volunteer work since 1997. She is a certified Virginia Master Naturalist, member of Potomac Appalachian Trail Club, Greater Prince William Trails Coalition, Prince William Wildflower Society, and Audubon Society of Northern Virginia. 
Haven't chatted with Janis yet on the benefits of studying, working, and being in nature? You may want to after reading her article – she knows her Virginia flora and fauna and is always willing to share her knowledge! Read on to get a view of volunteering at the Preserve from Janis' perspective, and what she has gained in return. 
Volunteering at the Preserve; from trail maintenance to  community science
Let me start by saying that doing volunteer "work" at Bull Run Mountains Natural Area Preserve has been one of my life's most enjoyable and rewarding efforts.  In 1997, I started assisting the new land manager in assessing the natural and cultural resources of what has become the Preserve.  This initial opportunity to wander the woods looking for artifacts led me to discover and record forgotten cemeteries.  In the process, I grew to know many plants and flowers whose identities had previously eluded me.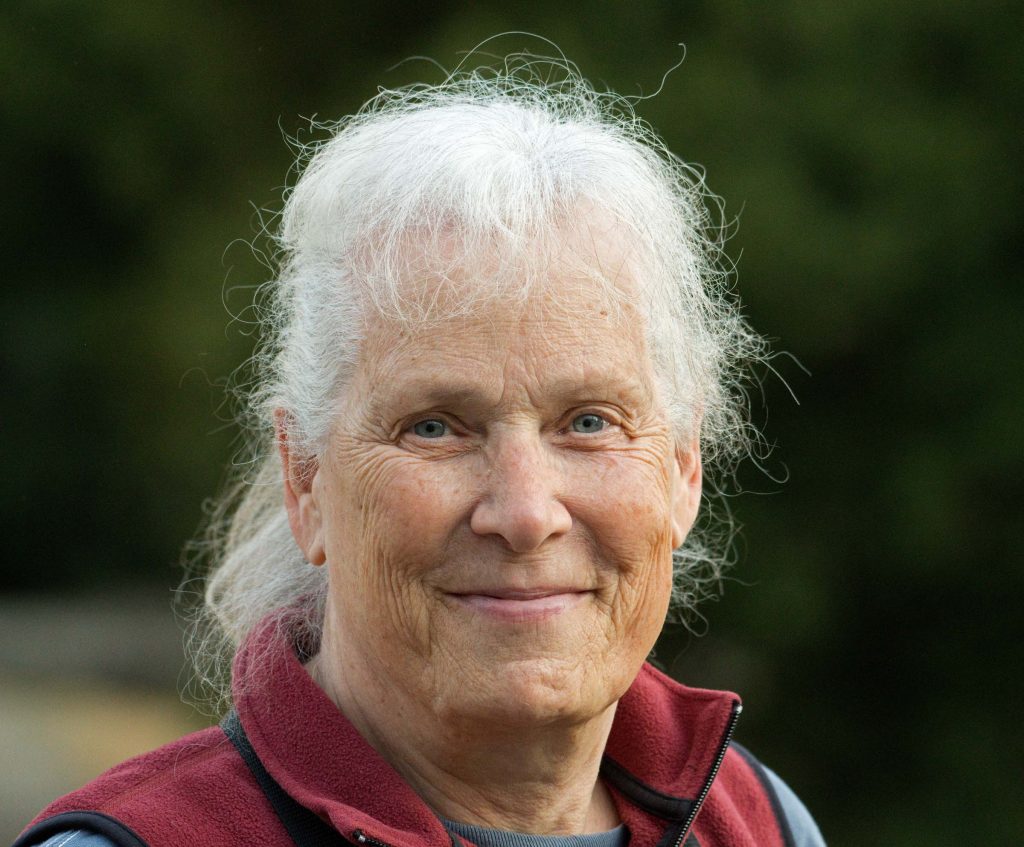 In case you didn't know, volunteering to participate in community science activities is really just an excuse to do what you already love, while helping advance scientific knowledge, and learning more about the environment along the way.  For example, I participated in several "Bioblitz" efforts for a full day of finding animals, insects, and flowers.  I helped Audubon Naturalist Society's "benthic macroinvertabrate surveys", which is really just playing in a stream, catching bugs, and trying to figure out what they are.
Ever since the Potomac Appalachian Trail Club became involved in trail work on the Preserve in 2010, I've been able to help keep the trails in good condition, improving the treadways and building water control structures.  Along the way, I learned how to properly use a chainsaw, a skill that came in handy when a small tornado tore through the Preserve in August 2017 and dropped many trees across the trails.
Being asked by VOF to develop a trail system on the northern part of the Preserve led to what was undoubtedly the best autumn of my life.  For months, I was exploring the woods and hills to uncover the best paths, discovering multiple now-rare American Chestnut trees (40-feet tall!) in the process.
It seems like every time I help out, I get back way more than I give.  I get free exercise without a gym.  I've learned more about our local flora and fauna that I ever could have predicted.  It has taught me how people interact with the land, both in the historic past and today.  I can honestly say I learn something new every time.
So yeah, volunteering is totally awesome.  You get to do something you already want to do, feel good about giving back to a place you love, and experience more than you expect.  I truly cherish the gifts volunteering has given me, and I know the Preserve will provide many more such experiences for me and future volunteers.
– Janis