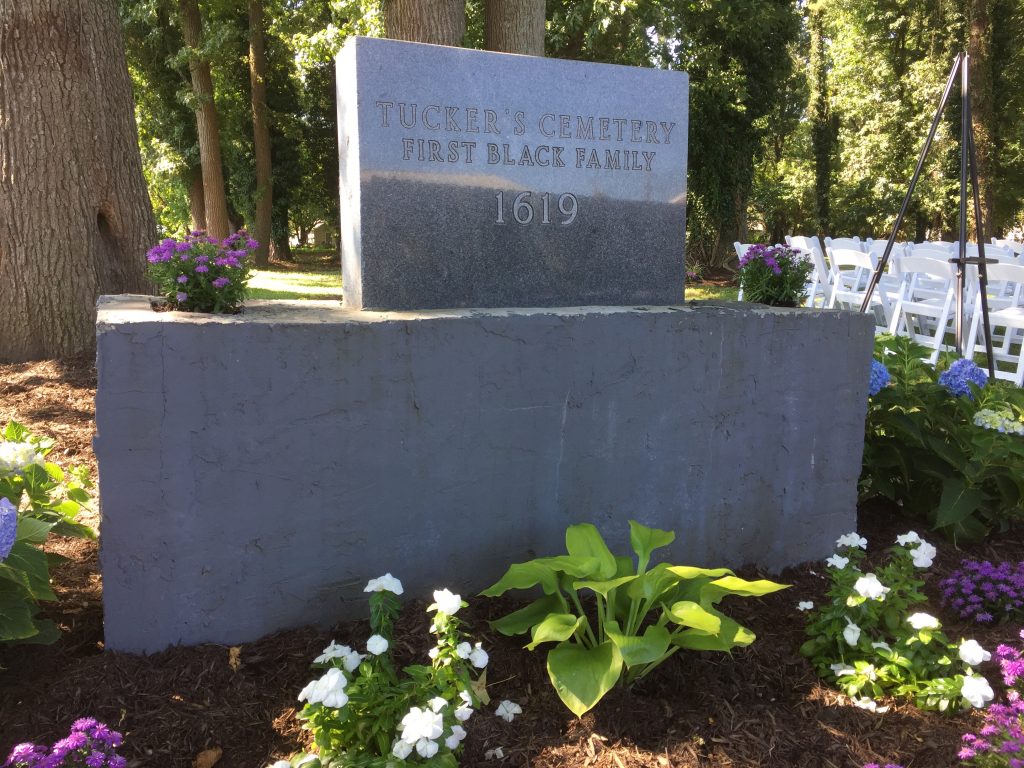 Last month the City of Hampton hosted a series of events commemorating the arrival of the first Africans in English North America in 1619, when an English mercenary ship brought the first African slaves to the shores where Fort Monroe now stands.
Nearby, the Hampton neighborhood of Aberdeen Gardens also observed the anniversary with a Reflection and Commemoration ceremony at the Tucker Family Cemetery. Here, tucked away on a couple of acres surrounded by homes, the tree-filled space holds the remains of the descendants of William Tucker, the first baby born to those enslaved Africans.
VOF made a grant of $100,000 last year from its Preservation Trust Fund to support the Tucker family in their efforts to preserve and restore the cemetery. An open-space easement on the property ensures that the parcel remains undeveloped with access to the public.
It is unknown whether Tucker himself is buried here. Preserving the space gives researchers time to find out, says VOF's deputy director of policy and acquisitions, Leslie Grayson. "As technology advances, we will be able to learn more and more about this place. We could lose so much historical knowledge if this parcel were developed."
Protecting the cemetery also complements the protection of the surrounding neighborhood, which is listed on the National Register of Historic Places and the Virginia State Register of Historic Landmarks. Of the 34 New Deal planned communities created to provide homesteads for the urban poor during the Great Depression, Aberdeen Gardens is the only one meant for black residents. It was designed by black architects and completed by black workers in 1937.
The 440-acre community holds 158 homes arranged on large lots meant to hold large vegetable gardens and small livestock for subsistence farming. The homes and the neighborhood remain remarkably intact thanks to the ongoing efforts of residents to resist encroachment from developers.
In their efforts to preserve the cemetery, the Tucker family formed a nonprofit, the William Tucker 1624 Society, which hosted volunteer clean-ups and in 2017 commissioned a survey using ground-penetrating radar that revealed more than 100 graves.
The society "considers the care and maintenance of this place to be a sacred obligation," says Carolita Jones Cope, the family's spokesperson.  "We hope others will be inspired to support cemetery clean-up efforts in memory of, and as an opportunity to honor, our ancestors."
VOF's support of the work at Tucker Family Cemetery, as well as historic Evergreen and East End cemeteries in Richmond, has elevated awareness of protecting historic black cemeteries.
 "These places are crucial to our understanding of African-American history," says VOF Executive Director Brett Glymph. "Given how much of that history has been either lost or erased, it is imperative that we preserve the pieces that remain, to provide a complete picture of our shared heritage as a nation."