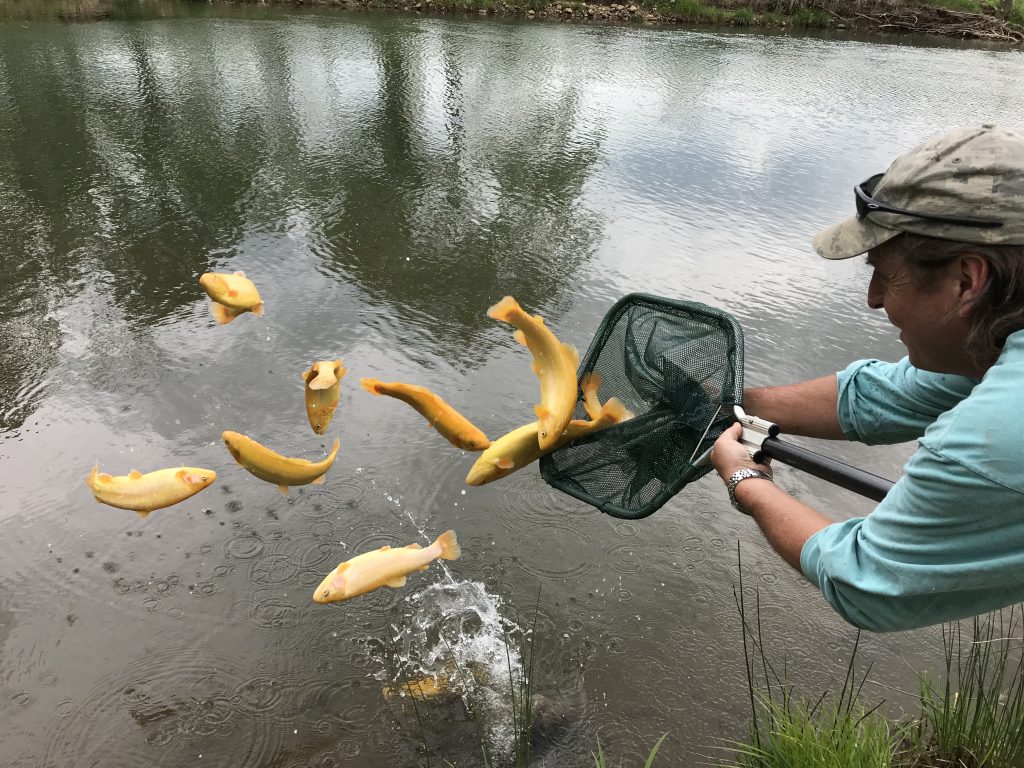 The Virginia Outdoors Foundation will be opening Hayfields Farm in Highland County to the public for two community events in June.
The first event will be a free fishing day on Saturday, June 8, from 8:00 a.m. to 6:00 p.m. on a portion of the one-mile stretch of the Bullpasture River that runs through the property.
The morning will be reserved for anglers with children, so that youth have the first opportunity to catch some of the 250 rainbow and golden rainbow trout that have been stocked. After 12:00 p.m., the river will be open to anyone. The creel limit will be two trout per angler. The event coincides with Free Fishing Days sponsored by the Virginia Department of Game and Inland Fisheries, so anglers will not need a license.
Hayfields Farm is located at 524 Hayfields Lane, approximately seven miles south of McDowell on Bullpasture River Road. For questions about the fishing day, contact Harry Hibbitts, hhibbitts@vofonline.org, (540) 430-0292.
Later in June, on Friday the 28th, VOF will open Hayfields from dawn until dusk for painters participating in the Highland County Artists' Weekend, sponsored by the Highland County Arts Council.
Painters of all experience levels will be welcome to paint independently or with friends in a "plein air" setting at Hayfields and other designated spaces throughout the county. The event will culminate with a "wet-paint show and sale" open to the public on Sunday afternoon from 2:00 p.m. to 4:00 p.m. at the Highland Center in Monterey.
Highland County Artists' Weekend registration is open through June 12. Registration forms can be found at www.highlandcounty.org. To find out more contact Liz Delahoussaye, edelahoussaye@yahoo.com, (540) 468-2916
The events are an opportunity for locals to enjoy Hayfields while VOF continues its long-term management planning process for the 1,034-acre property.
Hayfields Farm was acquired by the foundation in 2017 as mitigation for the Atlantic Coast Pipeline crossing nine VOF easements in High, Bath, and Augusta counties.
VOF initiated planning for the property in 2018 by seeking community and stakeholder input on potential future uses of the farm that could benefit the public, while also protecting the natural resources on the property.
Working with a firm called Stantec, in October 2018 the foundation held a community engagement workshop at the Highlands Center and heard from citizens and community leaders about their aspirational goals for the property, as well as the region's overall needs. Economic development, public access, and preservation emerged as central themes from the forum. Discussion of potential uses ranged from a state park to an agricultural research facility to a health and wellness facility serving youth and wounded veterans.
Input received from the community and from a survey to potential partners was compiled in a report, which can be downloaded here.
As a next step, VOF is using the community and partner input to draft a Request for Interest that will be announced in the coming weeks. The purpose of the request will be to spark further dialogue and creative thinking on how Hayfields could be managed for both economic development and conservation. VOF will also continue conversations with the Virginia Department of Conservation and Recreation and the Department of Game and Inland Fisheries about the property's potential as state-owned public land. "Because there is no pressure to rush the process, we have an opportunity to be thoughtful and creative about how Hayfields can best benefit the public," says Martha Little. "This is a remarkable property, with a lot of high conservation value and potential to meet multiple needs for the region. We want to make sure we get it right, and that starts by bringing as many stakeholders as possible to the table."