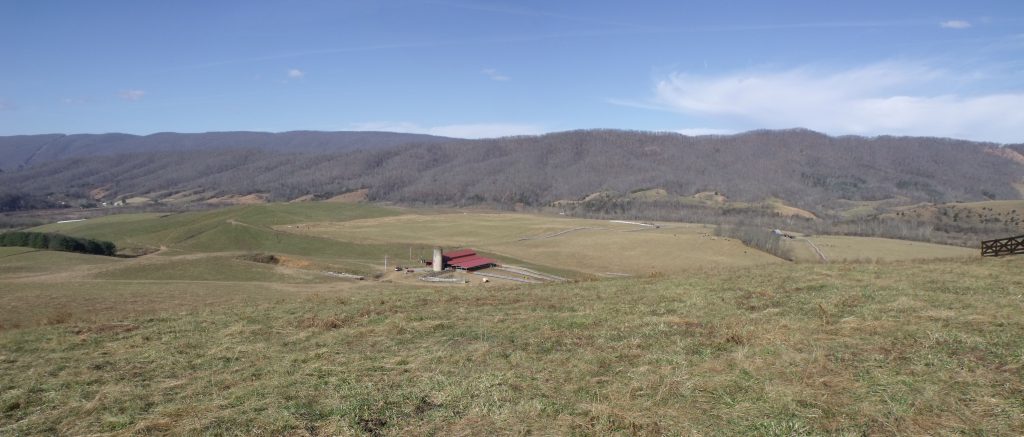 Several years ago, a neighbor asked Shelley Waddle if she and her husband, Jeff, had ever considered protecting their 1,158-acre Saltville farm from development with a conservation easement.
She was skeptical at first. "We didn't understand the process, the terminology," says Shelley, a farmer and schoolteacher who was born and raised in Smyth County. "Once our neighbor sat us down, we listened and we realized we can't pass this up."
They learned that conservation easements are voluntary legal agreements between landowners and a qualified governmental or nonprofit organization intended to prevent dense residential and commercial development on land. The land remains in private ownership, and the family can continue to farm it, timber it, and sell it to a new owner or pass it along to the next generation. New houses, barns and other buildings are usually permitted, but their size and number are capped through negotiation.
Farmers surrounding the Waddles, including their neighbor, had been protecting land with easements for years through the Virginia Outdoors Foundation. Interest in the program stemmed in part from farms along the Holston River being chopped up and developed as getaway homes. There was also talk of a hydroelectric power plant being built on the river, which passes through the Waddles' farm for more than two miles.
Concerned that the "suits and ties," as Shelley calls them, would come knocking soon, she and Jeff got in touch with VOF's Neal Kilgore in Abingdon to start the easement process. They finalized the easement in 2013 and have never looked back.
"By preventing the land along the river from being over-developed, and through riparian buffers in the easement that keep the cattle out, we're helping to keep the river clean for recreation, drinking water, swimming, wildlife, and other things that benefit the public," says Kilgore. "For landowners who are more interested in farming than making a quick buck selling to developers, it's a win-win program because there are substantial federal and state tax benefits to donating an easement."
Kilgore says that the way the Waddles heard about easements, through their neighbor, is common in rural communities. He is often approached by farmers who live next to easement-protected land, or who have family members who have worked with VOF before. Many have heard about the state tax credits for donating easements, which can be sold for cash. These credits have played a major role in easements being a viable tool for working farmers who are mindful of the bottom line.
"When you farm, you're gambling," says Shelley. "You can't control the market, the pricing, the weather." Tax credits, she explains, allow farmers to do the right thing without jeopardizing their finances.
"People should think about the small percentage of people farming and how it's a dying breed," she adds. "Our community was called Rich Valley because the climate is good, the soil is good, and farming was what you did. Over the years, we've seen farmers go out of business and it's sad."
Tax incentives may help offset the costs of giving up development rights, but Shelley is quick to point out that you must want to protect your land for reasons other than money.
"I'm standing on my front porch now looking down the valley and it's beautiful," she says. "It's a beautiful place to live and sometimes you take that for granted. The easement will allow us and our future to be preserved. We have two boys who eat, live, and breathe farming. I think about them."