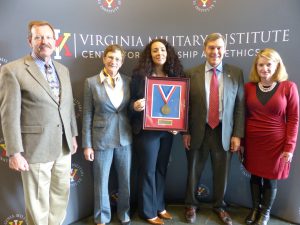 The Virginia Outdoors Foundation was named a Gold Medal recipient during the Governor's Environmental Excellence Award ceremony on April 7 at the 27th Environment Virginia Symposium in Lexington, Va.
The awards recognize significant contributions of environmental and conservation leaders in four categories: sustainability, environmental project, land conservation, and implementation of the Virginia Outdoors Plan. VOF was awarded in the land conservation category for its 50 years of achievement in conserving Virginia's open spaces for future generations.
"These winners have made a commitment that all Virginians benefit from," Governor Terry McAuliffe said. "I congratulate and thank these organizations for their leadership, innovation and commitment to Virginia's natural environment."
Since its inception in 1966, VOF has conserved land at a rate of nearly two acres every hour, and now protects almost 800,000 acres of land open space across 107 counties and independent cities. Other noteworthy statistics include:
VOF's portfolio of conserved land is roughly equivalent to the size of Rhode Island.
95 percent of all Virginians live within 10 miles of VOF-conserved land.
VOF manages more open-space easements — nearly 4,000 — than any other land trust in the nation.
VOF easements account for approximately 80% of all the open-space easement acreage in the Commonwealth.
VOF owns four open-space reserves, with the largest being the 2,350 Bull Run Mountains Natural Area Preserve in Northern Virginia.
VOF has been responsible for protecting about one-third of all the conserved land in the six-state Chesapeake Bay watershed since the implementation of the Chesapeake Bay Agreement in 2000.
"We thank the Governor for recognizing VOF's achievements over the last 50 years," said VOF Board of Trustees Chair Stephanie Ridder, who protected her own Rappahannock County farm with a VOF easement in 2001. "We owe our success, and this award, to the thousands of landowners and partners we work with, as well as to our dedicated staff and trustees both past and present."