It's one thing for a farm to stay intact for 350 years. It's another thing for a farm to stay in the same family for that long.
Next year, Locust Grove will achieve both.
The King and Queen farm has been owned and operated by the Walker family since February 26, 1665, when the King of England granted the land to Major Thomas Walker. Sitting high above the Mattaponi River just downstream from the village of Walkerton, the 634-acre property has survived thanks to the hard work and dedication of 12 generations of Walkers.
Last year, the current owners —siblings Missie and Jerry Walker, and Jerry's wife, Cecky—ensured the farm's future as open space by donating a conservation easement to the Virginia Outdoors Foundation.
The easement limits divisions and buildings on a property that is a developer's dream, given its proximity to Richmond and million-dollar views of one of the state's most scenic tidal rivers.
It also protects a wealth of cultural and natural resources.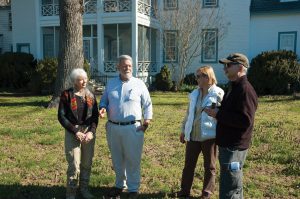 An archeological resource on the property, Fort Mattapony, is listed on the National Register and was used by Mattaponi Indians for protection against hostile tribes from the north. (The family still enjoys a close relationship with the tribe.)
Today, the Walkers manage the land mostly for small grain and turf production. More than half of the soils on the farm are designated by the USDA Natural Resources Conservation Service as Prime Farmland. To supplement their farming income, the family makes Locust Grove available for weddings, reunions, festivals, Scouting activities, meetings, art shows, and other events. They host an annual Wine & Arts Festival, as well as an annual Christmas art show that is free to the public.
The property's most striking feature, though, is the 1.5 miles of frontage it shares with the Mattaponi River. Not only is this stretch of the river popular with boaters and anglers, but it is also home to a wealth of plants and animals, including several rare species. The easement protects more than 16,000 feet of forested riparian buffers on the river and several tributaries—all helping to prevent erosion and runoff from polluting the water.
In April, the easement was recognized for its exceptional public benefits when the McAuliffe Administration presented the Walkers with a Governor's Environmental Excellence Award.
Locust Grove was one of several properties along the Mattaponi that went under easement last year. Another was on an 875-acre easement across the river on a farm called Enfield. Together, the easements illustrate a trend among Tidewater landowners to protect what remains of the region's riverfront farmland.
Explaining the trend to the Richmond Times-Dispatch, Jerry Walker said, "The people involved are my age or older…. They're looking at it as a way to hold onto these farms for themselves and their children."